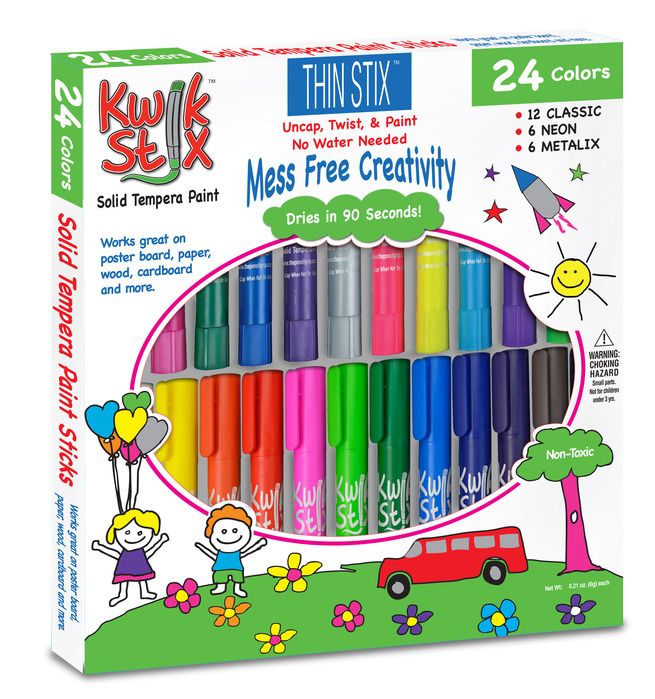 The Pencil Grip, Inc.
has a variety of great products including
Thin Stix Creativity Pack
.
It comes with 24 beautiful sticks of tempera paint. These have by far been the best tool for my toddler when it comes to her wanting to paint. So much so, that in her toddler art class at our local Community Art Center, I shared with them these sticks and they immediately went out and bought some! They knew a good tool for the preschoolers class right away. She was just as impressed as I was!
My 13 year old got these out for her sister as soon as they came in the mail. My 3 year old literally screamed when she saw them! She has the Thin Stix 6 pack (can read my review
here
) and she was thrilled to see so many more colors. We printed some coloring pages off the internet and they got started on creating.
She is nearly 3 years old and you can see in the photo above how well they fit in her hand. They are a great size for all ages. My 13 year old may love them just as much as her little sister.
It comes with 12 classic colors, 6 more than our original pack. Just these alone gave the girls a great palette to work from.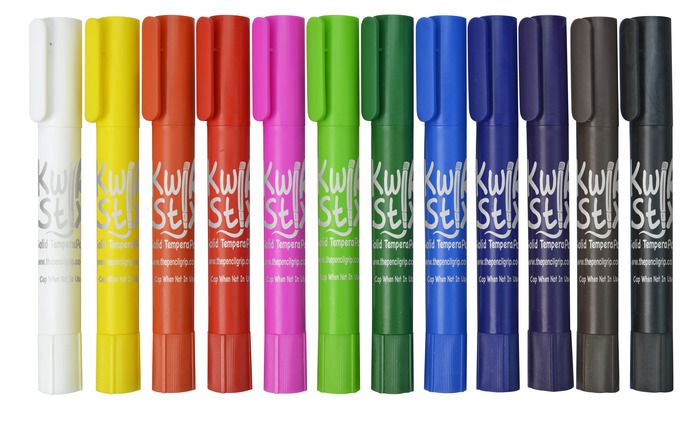 The Thin Stix do not bleed through the paper, and clean up is super easy. They dry just as soon as you get them on the paper.


6 Metalix paint sticks were probably the best in the pack for a review from girls!
Both of the girls loved the MetalixThin Stix! You know how girls can be, all glitter and gold, and the little one even called them glitter paint. Didn't matter if they were 3 or 13, the Metalix ones were the favorites.
Finally there were 6 neon colors in the pack. These would be perfect for making posters, the colors are bold and bright and the paint really makes the color pop out.
One thing my 13 year old mentioned as she was working with the 3 year old on this review, was that the clean up was so easy. Any paint on the table wiped up very easily. There was no need to make sure she had old clothes on to get dirty, there was no paint on her clothes at all. There were no paintbrushes or water to clean up (or spill accidentally). There was no worry about stacking the finished art projects because they were already dry!
She got a little on her fingers, but it washed up super easily as well. I highly recommend these to anyone with toddlers. The only thing you need to watch with them is that they don't push too hard when they at painting, to not get too thick of a layer on the picture. You can see here a little bit where she was getting it on a little thick.
The 24 pack is available at
BJ's
on sale for $19.99, regularly priced at $24.99.

Find The Pencil Grip on these social media sites
Facebook: https://www.facebook.com/thepencilgrip/
Twitter: https://twitter.com/thepencilgrip @thepencilgrip
Pinterest: https://www.pinterest.com/thepencilgrip/
See how the Review Crew used the Thin Stix Creativity Pack by clicking on the photo below.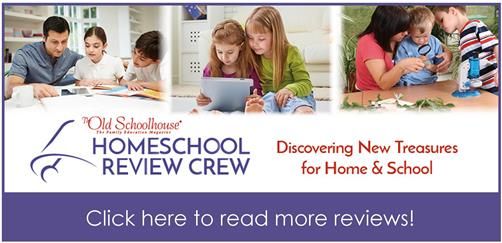 Don't miss a single post
Subscribe to A Year of Jubilee Reviews
and get our latest reviews and giveaways directly to your inbox!