Institute for Excellence in Writing
is on the forefront with focused writing, and
High School Essay Intensive
has been a huge asset to helping my son learn the basics of essays.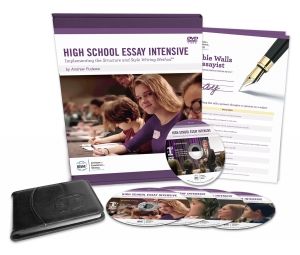 This program comes with 5 DVDs and a 28 page handout. It also has a tri fold guide titled Portable Walls for the Essayist that is great tool to keep nearby as they are writing.
This program is multi facetted. It can be used to learn to write basic essays. It is also helpful to prepare for the essay portion of the ACT and SAT tests. My 18 year old did not take the essay portion of the ACT, so we focused on the first part of the intensive, General Strategies for Essay Writing. Part 1 on the DVD which is divided into two parts.
Part 1A: General Strategies for Essay Writing: Length and Structure
Initial Exercise
A Hurt and Rescue Operation
What is an essay?
Two Questions Writers Need to Ask
Translating Assignment Length to Paragraphs
Types of Paragraph
The TRIAC Paragraph Model
Essay Models
Part 1B: General Strategies for Essay Writing: Invention and Style
Canons of Rhetoric
Invention
Practicing Common Topics of Invention
Practice with TRIAC Outline
Style
Sentence Patterns
Literary Devices: Schemes and Tropes
Practice with Sentence Openers and Figures of Speech
Though we have looked at essay writing during high school, my son was struggling with what an essay was. He said with this program, that it was the first time he actually understood writing an essay and the purpose of it! That in itself speaks for this program. He would watch the DVD and take notes on the handout. In the first lesson my son said he liked that Andrew Pudewa didn't take baby steps but 'threw him in the fire' with giving him 20 minutes to write an essay. These types of essays aren't the typical style of essay that you will write, but they are the type you will need to know for the ACT, SAT, and competitive writing.
Andrew Pudewa strongly encouraged note taking as he watched the DVD. Firstly because it models what needs to be done in college, and secondly it looks good when Mom or Dad ask what you learned with the High School Essay Intensive, and you have a handout full of notes.
My son really liked the tricks and techniques section where he was taught how to figure out the number of topics you need to write a specific length paper. That you don't have to guess on how to do it, that you can mathematically figure out what you will need to succeed at say a ten page paper. He also liked the technique to find out what type or style of essay a specific professor likes. Then write with the style they prefer, to increase your grade.
Another part that was really helpful to him was learning about types of paragraphs and their jobs. He learned about the thesis, topical sentences and conclusions. This program from Institute for Excellence in Writing was really a break through for him. He plans on continuing through the rest of part 1B and then go on to Part 4, Strategies for the "Personal Essay". He has expressed that he finds this program will be very helpful for him as he gets ready to start college.
Excellent resource for any high school student!!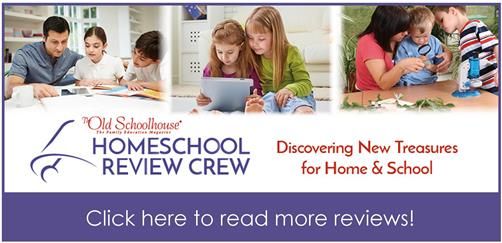 Don't miss a single post
Subscribe to A Year of Jubilee Reviews
and get our latest reviews and giveaways directly to your inbox!