Apologia Educational Ministries has long been our Science Curriculum for years. We truly find it amazing and
Exploring Creation with Astronomy, 2nd Edition
has been just as exciting for us!
We were thrilled to be able to review the latest version of the Exploring Creation with Astronomy as the kids have had a new found love of stars and planets. I used this with my 11 year old using the
Notebooking Journal
and the
Jr. Notebooking
for my 8 year old.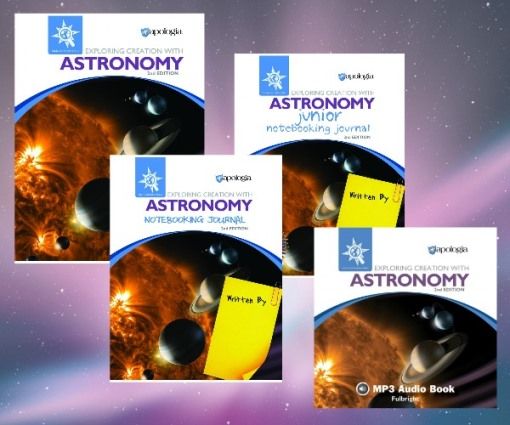 To be honest, Science is something we end up putting on the back burner to our basic Reading, Writing, and Math. Time seems to dictate that we get those done, and often after that we struggle to dig into science. Not with Apologia Science! The kids have so enjoyed the Exploring Creation series, that they get through their regular school work sooner so that they have time for Science.
We have enjoyed working through the basics of astronomy and the Sun chapters so far.
Science that can be done with more than one child at a time really helps me as the homeschool mom, and it helps the kids experience the activities and experiments together.
There area 14 lessons in the astronomy book. Which may seem confusing, as this is much longer than a 14 day or 14 weeks. Thankfully there is a lesson plan in the Notebooking Journal that walks us through the daily assignments.
Some lessons have 4 days worth of work, and others have as many as 7. We chose to do one daily set of assignments, twice a week. We choose to have science on Monday and Wednesday as that just works well for us.
Each daily assignment has a combination of reading in the Student Text (which I choose to read to both of them together), notebooking journal pages, and activities.
As we learned about basic astronomy, we had the chance to make a solar system out of balloons. This was a really fun experiment, though we could not get the Sun anywhere near as large as it needed to be proportionally!
We had the chance to make mini notebooks within our Notebooking journal as well, as a good review of all we learned in the first chapter
The Notebooking Journals are not identical. The Jr. Notebooking Journal has easier puzzles and includes coloring pages. The Notebooking Journal has some more worksheets to describe what you have been learning about. Of course my 11 year old enjoys coloring more than the 8 year old so she convinced him to let her color his pages.
We learned some amazing facts about the sun in Lesson 2. I love that Apologia always brings it back to God and His amazing Creation. With scripture verses right in the text, as well as examples that show God's greatness. You can not get a better Biblical Worldview Science curriculum than Apologia.
We had an experiment to funnel the light from the sun to melt butter. That was really fun!
Big brother had to get in there and try to set a fire with a napkin, thankful that Apologia has us use butter!
Included in the set was an Audio CD which you use in your computer as it is an MP3. This reads aloud the Student Text to the student. This is great if you want the students to be independent with their reading, and they may struggle with it. They can listen and follow along in the student text. It is also good as a reinforcement to listen to what they are reading. Because I read the text to the kids myself, we have not used the Audio CD. If we had the capabilities in the car to play it I think we would use it for long drives just or a review.
In our review time we have just gotten started with Astronomy. We are excited to keep going and learn all about God's creativeness in Space.
Check out Apologia on these social media sites:
Facebook:
https://facebook.com/apologiaworld
Twitter:
https://www.twitter.com/apologiaworld
@apologiaworld
Pinterest
https://www.pinterest.com/apologia/
Instagram:
https://www.instagram.com/apologiaworld/
See what our Crew Mates thought of this great Astronomy program from Apologia by clicking on the banner below.


Don't miss a single post
Subscribe to A Year of Jubilee Reviews
and get our latest reviews and giveaways directly to your inbox!