Laurelwood Books
offers homeschool curriculum in many categories including handwriting. We reviewed Scripture Scribe Series
One Another
that allowed my daughter to work on her cursive and at the same time, read scripture.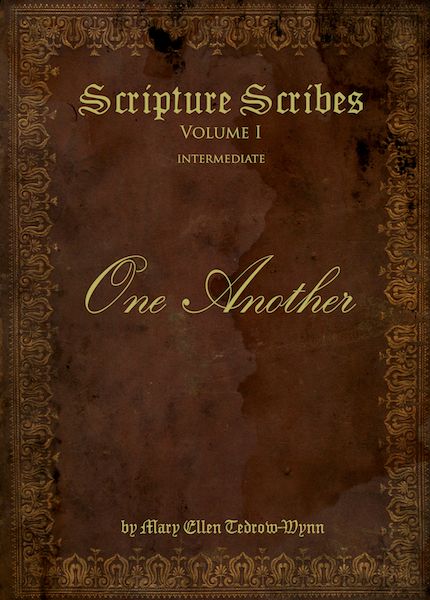 Scripture Scribes One Another has scripture writing with the words "One another", found in the New Testament of the Bible. There are 50 lessons in the book, covering 2 pages each. Each lesson has the student trace the scripture, and then write it out. The lines are dashed, but much smaller than your traditional cursive writing lines from elementary school. Scripture Scribes One Another is suggested for grades 4-6, but you can use it with whatever grade is at this level. I think these would be great for even the middle school age students. Even to incorporate memorization.
The verse is copied 4 different times on each lesson. Each time it is traced, and then rewritten. Each time it is also a different version of the Bible. Bible translations used are KJV, NKJV, ICB, and ESV.
Each lesson also follows that order. If it was too much for one lesson, you could easily do the first page one day, and the second page the next day, making each lesson span 2 days.
Some scripture examples are;
"Let love be without hypocrisy. Abhor what is evil. Cling to what is good. Be kindly affectionate to one another with brotherly love..." Romans 12:9-10 NKJV
I love that these verses are all ones that could easily be used as memory verses as well. They would be very easy to memorize. They are being read, copied over, rewritten at least four times. Have your student choose their favorite version, or even the one your family uses the most often. We use NKJV mostly in our school and church so I prefer the kids memorize in that version just to keep it stream lined for them.
So much more than simple cursive. I am hugely in favor of learning cursive. I believe that kids need to learn it so that they can read historical documents, even letters from their grandparents. Creatively it is great or their brains to learn cursive as well. It is a great tool for their hands and eyes to work together creatively with their brain. And in my opinion, cursive writing just looks nicer.
There are a few informational pages within One Another that I really enjoyed. They had a list of the Scriptures, approximately when it was written and by whom, and the language that it was in. I found this list to be super.
Laurelwood Books has additional cursive writing books. They have a series on Patriotic Penmanship, which is geared toward specific grades. It starts with 3rd grade and has individual copies up to 6th grade. Then there is a combination 7th and 8th, and even a high school edition. These books include historic quotes as well as Bible verses.
Social Media Links:
Facebook:
https://www.facebook.com/Laurelwood-Books-173789899339380/
Be sure to see what the other Crew members thought of this Scripture Scribes, as well as some of the Patriotic Penmanship and even some Latin curriculum. Laurelwood Books is a great place to check out while you are planning your upcoming school year.


Don't miss a single post
Subscribe to A Year of Jubilee Reviews
and get our latest reviews and giveaways directly to your inbox!