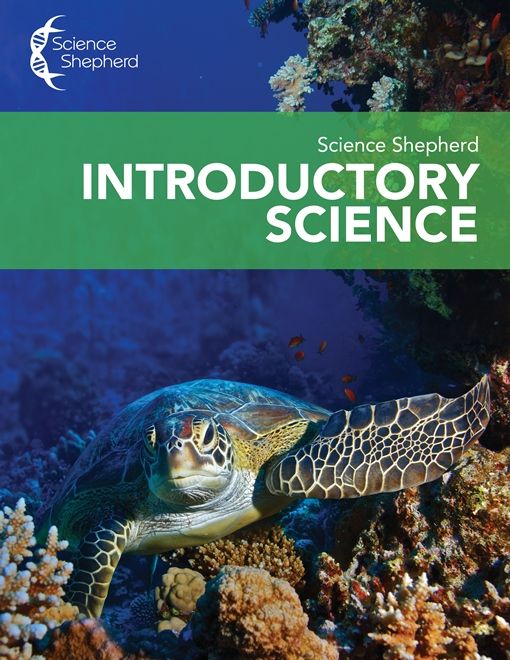 Science Shepherd
introduces science to the homeschooler from a Biblical perspective. Inundated left and right with evolution and world views, it was refreshing to review
Introductory Science
where the Bible is introduced in lesson 1.
We reviewed Level B which is for ages 9-11. I also purchased Level A for my 8 year old as that covers ages 6-8. They were able to watch the video together and work on their respective workbooks together. I loved how easy this was to combine with them together and have my older student help my younger one. Score for the homeschool teacher!
The core of this program is the online video segments. They range from 2-5 minutes. Very easy to understand and watch. We can't stream very quickly, but had no issues with these videos. When you purchase the course, you have 12 month unlimited access to the videos. The lesson plans divide the videos into 35 weeks of study. You will have plenty of time to get through the entire study in 12 months.
I definitely thought this was best for my younger student, given it is an introductory course. Much of it was review for my 11 year old, but I still loved how she could utilize it for review as well as learning to teach a younger sibling.
Because it is an introductory study, you aren't in any one discipline of science too long. The variation keeps things exciting for the student.
Included in the Introductory Science are;
Earth Science
; Meteorology, Geology, Oceanography, Astronomy,
Life Science
; Plants, Underwater Creatures, Flying Creatures, Land Creatures, Human Beings, Be Healthy, Ecology
Physical Science
; Matter, Energy, Magnets
The workbook clearly states the week and day of the assignment. Also the videos are clearly marked as well. For working independently this helps the student know exactly what is expected of them each day. It is expected to utilize each day, and truly it only takes under half an hour to complete the video and workbook. Sometimes the activities can take a little longer, depending on how detailed the student is.
There are a couple video activities each week. The kids really enjoyed these. The Video Activity most often were experiments and by far were the favorite part of the study. They were basic science experiments with objects you have around the house. They do have a link on their website for a full list of supplies you will need.
The kids also liked the activities where they would draw pictures. Most of these activities were toward the beginning of the study when we learned about creation, plants and weather.
As the Mom and teacher, one of my favorite parts of Science Shepherd was having each day of the workbook, starting with a scripture verse. They are keeping the focus on the Word, and making sure the kids are seeing it and hearing it.
I found Science Shepherd to be a sound, succinct, introductory course for elementary children to science. This is one of those reviews that we will continue long after the review period. The kids look forward to it and so do I.
Science Shepherd also offers Life Science and Biology. A few of our Crew reviewed these as well. You can click on the banner below to read their reviews.

Find Science Shepherd on these social media sites
Facebook - https://www.facebook.com/ScienceShepherd/
Twitter - https://twitter.com/scienceshepherd
Pinterest - ​ https://www.pinterest.com/scienceshepherd

Don't miss a single post
Subscribe to A Year of Jubilee Reviews
and get our latest reviews and giveaways directly to your inbox!