ARTistic Pursuits Inc. provides comprehensive art programs for homeschooling from preschool to high school levels. We had the privilege of reviewing
Sculpture Technique Model
which is geared for ages 11-18. I used the program with my 14 year old son, who just loves art.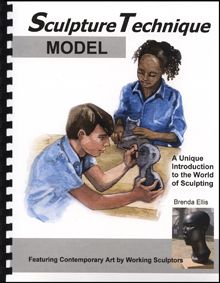 This particular book takes a look at the world of sculpting with putty, clay and fiber arts. In the time of our review we were only able to tackle one unit, and we chose Unit 2: Creating Scale with Clay.
The art supplies required are listed in the front of the book, broke down by unit so you can specifically get the supplies you need. Also on the ARTistic Pursuits website they have a list of supplies and even links to purchase. Many you can find at your local craft stores or ordering online. We had never worked with actual clay, so this was a fun experience for both of us. We purchased the Amaco clay online as well as some of the tools we needed to work with the clay.
We learned the properties of the clay, which was a bit surprising for me after using oven baked or quick air dry. The clay literally takes days to dry, and you need to keep a lose fit plastic bag over it so it doesn't crack or dry too quickly. Also the dust from the clay should not be inhaled, so your work surface is important to prevent the clay from sticking and drying in bits on your surface.
The first project we did was your basic pinch pot. Canyon chose to make a very small pot for his.
The next project was using a slab method utilizing a container to mold the clay around. This will make a larger vase. This project will not actually hold water, nor is it safe for drinking from.
We thought it would be ok to utilize a very thick cardboard tube for our base. We found out later, that wasn't the best idea. It is recommended to use plastic or metal, and you really do need to do that. Because the clay is so wet, and it sits for several days to dry, the cardboard was absorbing the dampness and started to fall apart, not being able to retain its shape as well. We had a plastic end cap for the bottom of the vase and were not able to get it out. Art is definitely a learning experience.
He chose to spray paint both of his projects and we found the perfect spray paint to make it look textured.
The 6th project was making a bust by using newspaper in the center to form the base of the bust.
You could do a self portrait, or just a random person. After this dried for a week it was to be painted.
Coiling was the last technique taught. This is where you build coils of clay on one another make to make a stack. It was suggested to make an animal from this technique. We plan on continuing with this unit and adding in the others this summer.
Unit 3 is fiber arts, and we have an angora rabbit that we are hoping to utilize her hair to learn some of the techniques for.
Facebook:
https://www.facebook.com/ArtisticPursuitsInc
Other crew mates reviewed products from ARTistic Pursuits Inc. Click on the banner to read their review.


Don't miss a single post
Subscribe to A Year of Jubilee Reviews
and get our latest reviews and giveaways directly to your inbox!