Apologia Educational Ministries and Debra Bell's writing courses have long been a favorite of ours.
Writers in Residence new language arts curriculum has been a wonderful addition to our writing.
Learning to write, and enjoying it has been difficult for my kids. They are just not natural born writers. We have used some of Debra Bell's writing prompts before and the kids have always enjoyed them. Writers in Residence combines writing, grammar, as well as sentence structure, capitalization and punctuation. All these are great for review even if your student has learned them. This program is geared for middle school, grades 4th through 8th. My 5th grade daughter was my reviewer for this program. The book is consumable so you will need to purchase additional workbooks for students, but the answer key is reusable.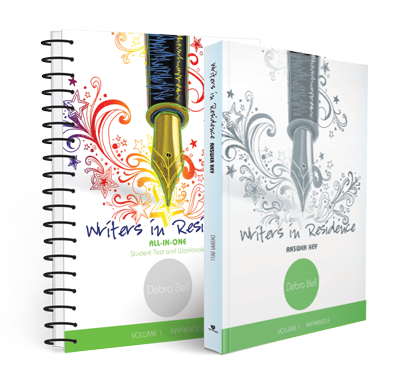 This writing program was easy to jump right in to. There was no prelearning for the teacher, or gathering supplies to get started. I loved the ease of that.
There are 6 units, with 24 modules within those. The writing tasks follow four concepts for writing. Rather than teaching traditional forms like expository, persuasive and narrative writing. Writers in Residence focuses on: I Remember, I Imagine, I Investigate, and I think. These are much more conducive to a beginning writer.
There is a suggested four day a week schedule in the front of the book. If you follow it, you will be done in 32 weeks.
At the beginning of each unit we are introduced to an author and some of their works. The student also models their writing after specific works such as Sarah, Plain and Tall by Patricia MacLachlan, and When I was Young in the Mountains by Cynthia Rylant. These are easy to find at the library or you may even have them in your own collection. I love how the program uses published literature to model the writing after, and includes excerpts to show the students.
So far we have learned about Proper nouns, Subjects, Predicates, Chronological order, parts of speech, clause and phrase, and conjunctions. I love how these are integrated into our writing assignment for the day. Writing and grammar are intertwined, giving a whole language approach to writing.
The first big writing assignment was about writing memories of when you were young. A place that you went that you remember. This was a little bit hard for my daughter as we don't really travel or go on vacation. The things she has done, she didn't have enough recollection of to write about. We were able to remember when family came to visit us and we went to the State Park in town. Once we pulled out pictures (that was suggested), she was able to remember much more about it. I loved watching her basic writing become more exciting as she switched up boring verbs for more active ones, and basic nouns for more specific ones.


She was able to see the writing process as she went, and able to see it be refined into a finished work. That is really helpful I feel for a new writer.
I am thrilled that this is only volume 1 of 4 that are slated to release! This is an excellent writing program that I plan to keep my daughter in, and to start my son when he is old enough.
Each module has a checklist to keep track of scores and grading if you choose to utilize it.
There is also a writing rubric for each large assignment.
I am very pleased with the Writers in Residence from Apologia Educational Ministries and highly recommend it.
Check out Apologia on these social media sites.
Facebook:
http://www.facebook.com/apologiaworld
Twitter:
http://www.twitter.com/apologiaworld
@apologiaworld
Pinterest:
https://www.pinterest.com/apologia/
Instagram:
http://www.instagram.com/apologia
See what other crew mates thought about Writers in Residence by clicking on the banner below.


Don't miss a single post
Subscribe to A Year of Jubilee Reviews
and get our latest reviews and giveaways directly to your inbox!