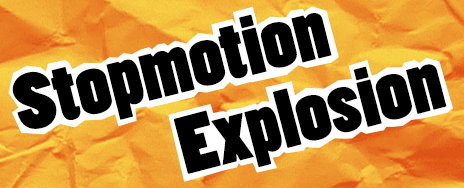 Movie making has been an interest of my children from the youngest to the oldest.
Stopmotion Explosion was able to give them more information and help through
Stopmotion Explosion: Animate ANYTHING and Make MOVIES
for filming better movies.
They have long used Littlest Pet Shop figures, and Lego to set up 'stages' and make films. Having the characters sing and dance to song, while recording a video on an old VHS recorder. Yep, they know what VHS is! We only had an old fashioned recorder for years and we have these sweet movies from years ago.
My 14 year old was very excited to learn how to hone in his skill of movie making. He utilized his camera for taking photos and plugged them into Windows Movie Maker which is a free program on the computer.
I am by no means tech savvy. I had to leave all of that to my 14 and 17 year old. I read through the book, but really had to have them help me to understand it. For the boys, it was really an eye opener to all that they could do.
The book starts with the history of movies. My 14 year old found this really interesting and tried to repeat it by making his own flip book.
Silly putty, mini figures, modibot, and even humans are great to use for stopmotion. Lego is abundant in our home so that is the actors that they chose to use.
The first animations were simple, and really with no focus. I wanted the kids to just get a feel for making the films and utilizing some of the aspects of the book. I uploaded one to youtube, the first 'simple one". I couldn't figure out how to upload the other ones yet, but the real tech savvy kid will be home from college this weekend to help.
Now that he has a youtube channel he is inspired to make more!
After playing around a little bit, you should make a script and a focused story. There is even a screenwriting program they suggest. I am fairly certain my kids won't use that for fun, but if it were to become a movie making class then that would be an excellent resource. The book gives great suggestions for where to find screenwriting software.
Now that you have your actors and the storyline, you need to work on the set. All in mini version, you can get as detailed as you like. Building material suggestions, landscape ideas,
The book goes on to instruct on lighting. We didn't do much with lighting, rather used the natural light. Even when they 'shot' outside, that light was really the best. There is much you can do with spotlights, flashlights, and those little laser pens.
One section of the book that my boys really loved was learning to make things fly! I was constantly having hairs yanked out of my head to tie on lego's so you couldn't see them flying.
So far these are all things that younger kids could easily do and enjoy in the process. The rest of the book gets a little bit more techy. Working with sound, video editing, importing videos, organizing clips, files and formats, and even shooting with DSLR cameras. The information in this second half of the book is definitely geared toward teens and those with some computer skills. It was a bit beyond me personally, but I know my older sons understand it much better.
This book is able then to be used by the younger kids for simple, movie making. They will get a kick out of watching their creation play on the computer. It is also a great book for having a high school class on film making. It would be a great semester class for a student interested in learning more about film and even communication and advertising.
See what my crew mates thought of this and the Stopmotion Explosion set that some reviewed, by clicking on the banner below.

Facebook:
https://www.facebook.com/Stopmotion-Explosion-104732269687187
Twitter:
https://twitter.com/stopmoexplosion
@stopmoexplosion

Don't miss a single post
Subscribe to A Year of Jubilee Reviews
and get our latest reviews and giveaways directly to your inbox!