EdTechLens
is an online multi media science curriculum.
Rainforest Journey is their premiere life science program geared for K through grade 5. You receive a one year online license to the science program, which is ample time to finish the course.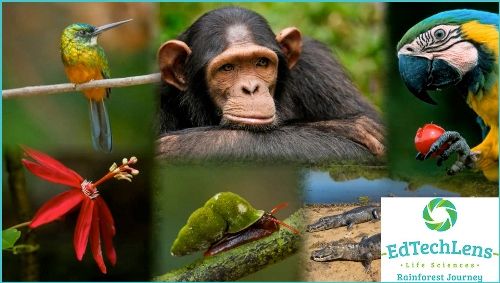 Rainforests are such a beautiful picture of science and delightful for kids and adults to learn about. I used this program with my 2nd and 5th grader and was pleased that the lessons mirrored each other so we were able to learn about the same things, at the same time.
I worked primarily with my 2nd grader on his journey. There are 5 units in this course;
The Big Picture of the Rainforest
Adapt or Die
Animals
Plants and Fungi
Ecosystems
Each unit then is broken down into chapters and lessons. This is a look at it from the teacher log in. I can go directly to any of the lessons and see what he will be learning about. There is also a Vocabulary page that lists the new words we will be learning about as well as illustrations of things like the water cycle.
The Teacher resources allow me to print off the worksheets for each lesson and also has hands on activities. The Hands on Activities includes one for classroom and one for home user. One for each unit, both a teacher and student hand out.
Maverick can access his account, and get started each morning on his own. His course outline makes it easy for him to see what he has already done, and where he is. The units he isn't to yet are locked so he can't skip ahead.
You will also see he doesn't have teacher resources on the side, this helps me to know we are logged into his account and not mine.
Notice the real life pictures! I love that all of the media is actual footage and pictures of animals and plants in the rain forest. Professionally done photos that are just beautiful. Each lesson has photos, and often a video that shows various things as well.
Maverick is not reading proficiently yet. He is given the option of reading his lesson, or clicking on the speaker icon and having it read to him. This has been extremely helpful to me to allow him to get much of his work done on his own.
It is easy for him to see where to move on to the next passage as well. You can download the lesson as a pdf if you are not able to utilize it online, for on the go learning.
I plan ahead and print off the worksheets that he needs for his lessons for the week. I do have to help him with those, as he isn't much of a writer yet.
Here is an example from Unit 2 on camouflage. You can see on the left was Maverick's with actual photos printed out of a frog, and a bird on the second page. He had to look at them and tell me how their coloring helped protect them. With my 5th grader she had to describe firstly what camouflage was, then learn about 3 different animals that use it and how it helps them. We are learning bout the same things, just at different levels. I really love that because she was very helpful in talking with her younger brother and sharing the things she was learning. I had never even heard of a Lyre-Tailed Nightjar myself.
Maverick loved making his depiction of the layers of the rainforest.
My 5th grader jumped in on this opportunity as well and created one of her own. It really helped cement in the different layers for both of them.
Check out EdTechLens on these social media sites
Twitter:
https://twitter.com/edtechlens
Facebook:
https://www.facebook.com/edtechlens
Pinterest:
https://www.pinterest.com/edtechlens/
Google +:
https://plus.google.com/+Edtechlens
LinkedIn:
https://www.linkedin.com/company/edtechlens
See what my Crew Mates thought at the different grade levels by clicking on the banner below.


Don't miss a single post
Subscribe to A Year of Jubilee Reviews
and get our latest reviews and giveaways directly to your inbox!