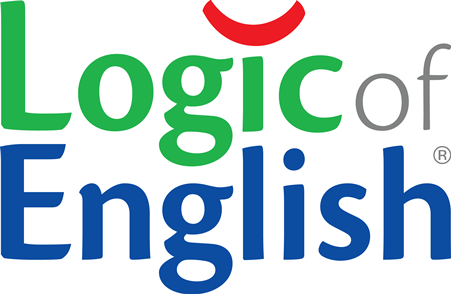 Logic of English sees the need to fight the literacy crisis, and to provide materials for everyone to learn to read. We have used several of their products and have always been very pleased with the quality of education. Uniquely, the
Essentials 2nd Edition covers just that, the essentials, but for multi levels. Everything that we need to teach reading, spelling, vocabulary and grammar is included in this set.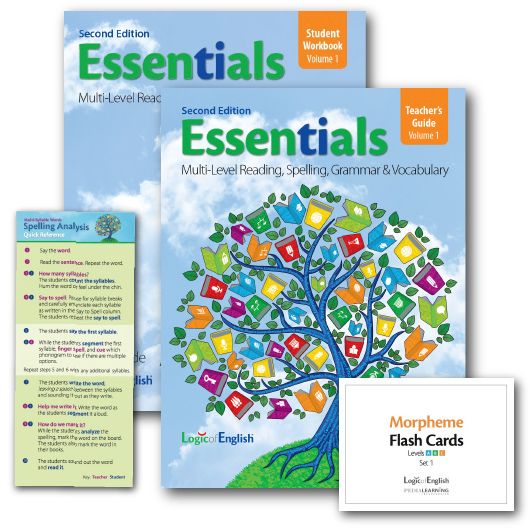 Essentials is geared for ages 8 and up. Works well with grades 2nd through 6th. It is also great for those who are dealing with ESL, dyslexia, and struggling readers and spellers. I chose to use this with my 11 year old because she is already reading, but struggles with spelling and vocabulary. My 8 year old I didn't feel would be able to quite handle it yet, as he is not reading at grade level. I would have loved to use it for both of them together to try out the multi level teaching feature, but he just wasn't up to this point yet.
There is a placement test in the teacher manual that you can give your child to see where they fall in the multi level line up. This will help you place your student at the A, B, or C level. Spelling, grammar and vocabulary are separated into three levels, though much of the instruction for the essentials is geared for all students. The placement test also allows the teacher to find out if the student needs some pre-lessons before starting Essentials. There are 10 pre lessons focused on different elements.
Essentials has 15 lessons, which equates to 15 weeks of study. Each lesson is divided into 5 days.
I reiterate, that there is a fair amount of learning for the teacher before you jump in. The teacher needs some teacher first, and I just want you to be aware that you will need to allow time for that before starting. Once you review the learning material for yourself, teaching it is very organized and structured. Each lesson begins by telling you exactly what phonographs and sounds you will be studying, which spelling rules you will use, as well as what is introduced in grammar and vocabulary.
The days are clearly marked with Day 1, etc. The components you use for All the students is marked ALL. There are boxes on the sides of the lesson plan for additional information that may help you in teaching the lesson. There are teacher tips as well as optional practice suggestions.
It is very thorough!
Here is a closer look at some of the flashcards that you will be using.
Essentials Reader Set
was a pdf download to help add to my daughters reading experience. The readers start easy and get harder as you go. The activities to go along with them are fun and engaging. They are in a pdf format, and I probably should have just had the activity book printed out and bound for ease, even though it is 200 pages. I instead printed off worksheets as we went. I would not print out the teacher book though. It is 100 pages and you can just view it on your laptop and instruct from there. We utilized the readers on the laptop as well, though their is a version that you can print out.
These are optional, but very useful.
I would rate Essentials as one of the top English programs with its care of covering so many of the basics, and continuing to build on them.
See what some of my crew mates thought by clicking on the banner below.

Check out Logic of English on these social media sites.
Facebook
:
https://www.facebook.com/TheLogicOfEnglish/
@LogicOfEnglish
YouTube
:
https://www.youtube.com/user/LogicofEnglish
Pinterest
:
https://www.pinterest.com/logicofenglish/
Don't miss a single post
Subscribe to A Year of Jubilee Reviews
and get our latest reviews and giveaways directly to your inbox!