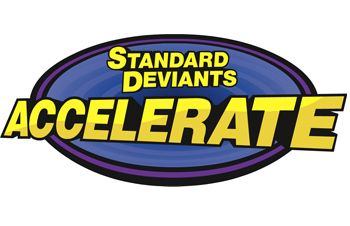 Standard Deviants Accelerate
offers online core subjects in their
Homeschool Courses
. We were able to review with them for a year, having complete access to all of their courses.
The courses include;
English Composition
Algebra
Arithmetic
Fundamental Math
Biology
Chemistry
Earth Science
US History
and some AP courses in
US History
Biology
Chemistry
English Language and Composition
Government and politics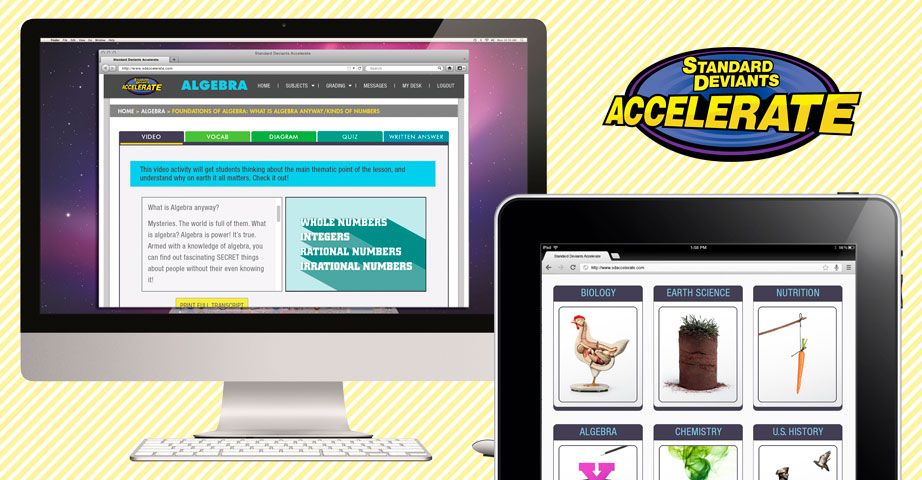 My previous review
HERE
I used SDA with my 10th and 7th grader at the time. I chose this time to use it with my younger daughter who is a 5th grader. She is my more 'compliant' child and tends to go with the flow more. I knew she would glean knowledge from this program and I was right!
We used Nutrition with her, and she really enjoyed learning about the different kinds of foods and nutrients that her body needs. She would repeat some of what she learned at dinner and I really thought that was a huge plus for SDA.. that she retained it and wanted to share it with us.
As the teacher, I can assign various classes to each of my children. They would each need an email address to sign in with. I chose for this review to just use Shiloh with one class. I have the choice to add in another class once she is done with this one, or even in the middle if I choose.
Above is the list of what she is learning about. With each lesson, she clicks on the link and it takes her to her video for the day. She does have to keep track of where she is at, which can be a challenge if we take a few days off. I would love if there was a way to indicate what ones are already complete. She can move through it as quickly as she likes, but she typically does just one video per session.
When you click on the link it will bring you to a screen like this
Shiloh jumps right into the video. "It explains about nutrition well". "The video shows how the different systems work. The cartoon person showed how digestion worked". She enjoys visually watching the video teach her more than just reading it in a book. I think by hearing it and seeing it, it also helps her to retain it.
There is a blank area below the video where you can take notes. Shiloh has just been taking notes on a piece of paper as it was easier for her while the video was in full screen.
The vocabulary section gives the student several vocabulary words to learn. There is even an icon they can press to hear it spoken to them. I find this to be quite helpful, especially for a younger student who may not be able to figure out some of these more difficult words.
The Diagram section gives the student practice in working with the information they got from the video and vocab words. The Quiz section then gives them a quiz based on what they have learned.
You can utilize what ever portion of the program that you would like. We chose to primarily focus on the video and vocabulary words. As a 5th grader I am not too heavy into quizzes so we didn't utilize that portion of the program. I am a bit more of a relaxed homeschooler so I didn't find it necessary. I do know that some states, and even teachers prefer to quiz so I am glad that the option is there.
We used Standard Deviants Accelerate on the PC, but you do have the option to use it on a tablet as well. This would work really good when you have multiple students trying to utilize the PC at one time!
I gave you just a glimpse of what this program is like for a 5th grader working on Nutrition. Click the banner below to see how my Crew mates used it with their own children in a variety of subjects.

Social Media:
Facebook:
https://www.facebook.com/SDAccelerate
Twitter:
https://twitter.com/SDAccelerate
Google+:
https://plus.google.com/+Sdaccelerate/posts
Pinterest:
https://www.pinterest.com/SDAccelerate/

Don't miss a single post
Subscribe to A Year of Jubilee Reviews
and get our latest reviews and giveaways directly to your inbox!