Reading Kingdom
has an online reading program as well as Autism Spectrum Disorder Reading program.
Reading Kingdom Online
is an online program geared for ages 4-10. It helps them to get to a 3rd grade reading level. Reading Kingdom uses much more than phonics. That is great for me, because I have never had much luck working with just phonics. My kids tend to need more in order to learn to read.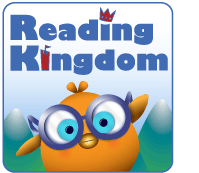 I used this with my 7 year old, who is technically in the 2nd grade but still is at a Kindergarten reading level. We used this in cooperation with his other reading program rather than just stopping the things we were already using. It works great as a supplement and I see no reason it could work as the main source as well. We just chose to do it this way.
Reading Kingdom uses phonics, grammar, sequencing, writing, sounds, meaning and comprehension to teach reading and writing.
A great perk with Reading Kingdom is that you can use it on kindle, ipad, android devices and Mac. So anything of technology that you have, will probably with the right browser be able to be used. There was a note on mine that it would work best in Chrome on my laptop so that is what we used.
I can see how Maverick is doing at the beginning of each session, with a progress report. I also get an email from Reading Kingdom with his progress. I love this accountability, especially if I were to use it with older children on their own. For Maverick I am basically right near by him when he is working on it, but it still helps me to keep tabs on him.
It is recommended to use this program 3 to 4 times a week. We have not done that like I would want to. Just like our 'normal' school, we have been interrupted with illness, vacation days, family visiting, etc. As we round the corner here in fall we will be incorporating it more into our day schedule. The Reading Kingdom work really does not take that long each day. Some days Maverick can get done in 15 minutes and I encourage him to keep going. There isn't a set amount of work to do each day, and then sign off till next time. You can kind of gauge how the child is doing. I try to watch when Maverick seems 'done' and I don't push him to do more.
It did take a few weeks to be beyond where the placement test process. Maverick had to work on sequencing and learning his letters and the keyboard a bit more. It at times felt 'boring' to Maverick, but repetition is part of the learning. It's not his 'favorite' he will say. I really don't feel that it has anything to do with Reading Kingdom, it's more than he doesn't find reading in general to be his 'favorite'.
Despite his best efforts, Reading Kingdom is here to stay until he completes the program. It has been proven effective and my daughter in a previous year really got some great skills from it. My advise to homeschool moms is, sometimes your student might not 'like' a program that much, but your knowledge on what is beneficial outweighs their feelings. I have found Reading Kingdom to be very beneficial, fun, and easy to use.
You can get a 30 day free trial by going to Reading Kingdom and clicking on the link.
Social Media:
https://www.facebook.com/readingkingdom
https://twitter.com/readingkingdom
https://www.pinterest.com/readingkingdom/
See what my Crew Mates thought by clicking on the banner below.


Don't miss a single post
Subscribe to A Year of Jubilee Reviews
and get our latest reviews and giveaways directly to your inbox!