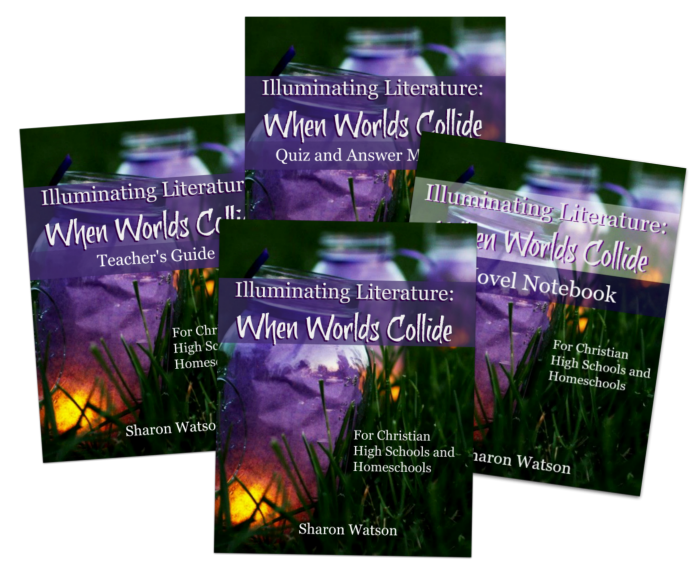 Reading and enjoying literature has long been difficult for my boys. I loved reading as a kid, journaling all the time, and writing poems just for fun. Not my boys. We have struggled and now that I have my third son struggling in 11th grade, I knew something needed to change. Just about this time
Writing with Sharon Watson came up for potential review on the Crew. I told Mackinley, that maybe this would be a key for him this school year.
We were sent 3 books;
Illuminating Literature: When Worlds Collide (Student Book)
Illuminating Literature: When Worlds Collide: Teacher's Guide
Illuminating Literature: When Worlds Collide: Quiz and Answer Manual
There is an additional book,
Illuminating Literature: When Worlds Collide:Novel Notebook (Free PDF Download)
that we downloaded and had printed off. You don't have to print it off, you can use a regular notebook. I liked how the questions were right in the notebook though and it helped Mackinley having to track them down.
So what is Illuminating Literature?
It is a year program that takes a look at 8 classic pieces of literature;
Pudd'nhead Wilson
, by Mark Twain
The War of the Worlds
, by H.G. Wells
The Friendly Persuasion by Jessamyn West
Peter Pan by Sir Jamie Barrie
Warriors Don't Cry by Melba Pattillo Beals
A Tale of Two Cities by Charles Dickens
Fahrenheit 451 by Ray Bradbury
The Screwtape Letters by C.S. Lewis
Not all of these are Christian authors, but what I love about the Sharon Watson program is that she is a Christian and the focus is on "analyzing the stories to sort the wheat from the chaff".
The theme for this series is conflict, thus the title "When Worlds Collide".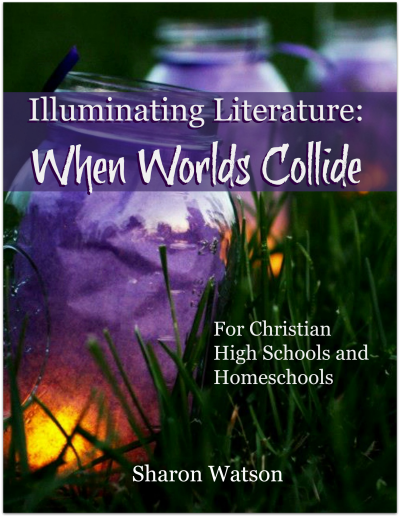 The first three lessons explain what literature is, in easy to understand terms. There was an evaluation at the front to check off reasons you are doing this study. And so you know what I am having to work with.. my son checked off "I need this course to graduate", and "I'll get in trouble with my parent or teacher if I don't read this stuff". Here is to praying his love of literature will get better by the end of this course!
Pudd'nhead Wilson was our first book. Sharon Watson was gracious enough to include this and the second book in our review materials. We learned a little about the author first which I think Mackinley enjoyed. He hadn't realized some of the facts about him, and I think it was helpful to start off with a fun author like Mark Twain that the kids will recognize.
It takes 4 weeks to finish the Pudd'nhead section. The first week was learning about some literary terms, the author, and how to use the novel notebook. I am encouraging Mackinley to take notes, to write in his book, and highlight things he likes or dislikes to remember later. I too am going to read each of these books so we can have intellectual conversations about them. I find that to be really important as he is more of a verbal learning rather than writing everything down. Having that banter back and forth as we read chapters will be very helpful. Some days he is simply reading a couple chapters for class. Other days he is writing notes in his novel journal. And then additional days he is actually answering questions in his Illumination Literature book.
Weeks two and three were primarily reading and taking notes. Week four is when we choose an activity to coincide with the book. The book is completely read and we move on to doing something fun with it. (well in the teacher's mind at least). Week for also includes a vocabulary test, some essay questions on conflict, and discussion questions.
We have not finished the activity section yet. I had hoped to get to it in the review time, but we just didn't. I am planning to give him a solid week to finish the project. Many of them involve writing and that is another struggle for him. I want to be able to take the time to really help him do a good essay, and not just jot down notes.
This program has been wonderful for us. We have incorporated it into his 11th grader year and it will be required for him to finish it. Some of our review items we just review for a time and then shelf them until they are needed. Not with Illuminating Literature. It is that good! This will additionally be one we do for the kids coming up the pipeline as well. Sharon Watson has really done an excellent job with making this a fun, easy on the teacher study.
Bonus for me too, I get to read 8 books this school year!!
I really hope to let you know how the other books work out for us as well.
Visit Sharon Watson on these social media sites
Facebook:
http://www.facebook.com/WritingWithSharonWatson
Pinterest:
http://pinterest.com/writingwithshar
Check out what my Crew Mates thought by clicking on the banner below.


Don't miss a single post
Subscribe to A Year of Jubilee Reviews
and get our latest reviews and
giveaways directly to your inbox!