UnLock Math
is like bringing the math teacher right into your own home. No need for Mom or Dad to go through the lesson and try to stay one step ahead of the student. With UnLock Math Alesia Blackwood gets your kids excited about math again!
My 8th grader isn't a huge fan of math. He will do it, but typically with my sitting right by his side and going through it with him. With younger kids to teach, that was really difficult last year. We started
UnLock Pre-Algebra
this summer for review and I was able to get him set up and leave! I let Alesia do her thing and I was just there to tell him how many sections I wanted him to do.
Alesia is an excellent teacher. We do have some math programs that come with a supplemental CD you can purchase, and those math teachers are so dull. I am not kidding, they went out and purposely found stereotypical math teachers. Alesia is anything but that! Young, fun and excited about Math she takes each section and goes through each part systematically and thoroughly.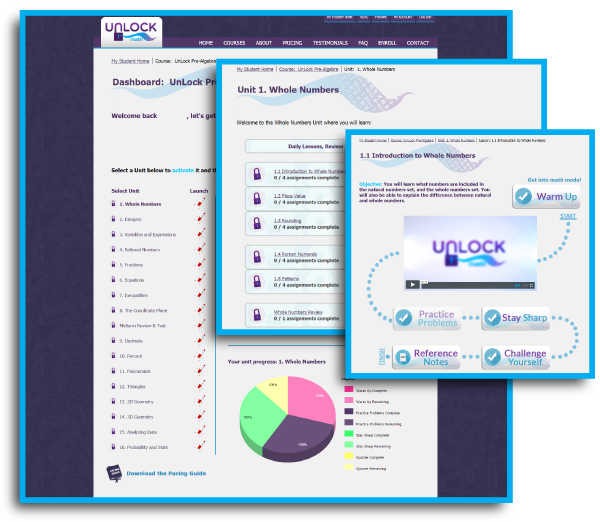 You go to the Dashboard and click on the section you want to use, then go and click on the rocket. It then takes you to the smallest inset screen above where the student starts with a warm up, then watches the video. After the video is practice problems, a review, and a challenge.
Canyon did have me help him with the challenge portion, and that was probably his least favorite part. Once he got to that point he wasn't overly interested in learning about critical thinking in math. I however always loved those type of problems as a kid!
You do not have to finish a section before going on to the next. That was great for us, as sometimes Canyon didn't want to do the Challenge question and I still wanted him to move on. It doesn't show that all the sections are complete unless you do them all, but you can work out of sequence if you choose.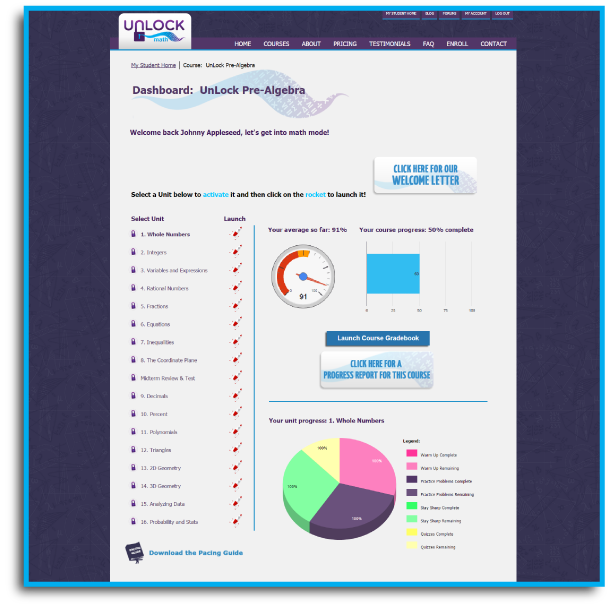 The also have Algebra 1 and Algebra 2 in the same style. What an excellent way to have the kids learn Algebra without Mom having to be stressed out!
Canyon loved the huge white board that Alesia used and wanted to figure out how she did that! She was able to write and erase and it all looked so crisp and clear. His little engineer mind was curious about the technology.
If you have questions or need help, UnLock Math is very easy to get ahold of. They sent me a couple emails during the review time to check in and that was really helpful.
The pacing guide was very helpful in knowing how much Canyon should do each day. It was easy to add more on in the beginning of the lessons as they were more of a review for him. I didn't want to do too much and overwhelm him. The pacing guide helps give you an idea of how long each unit should take to get through. I am using this guide to preschedule what he will be doing when we start back up with school in a couple of weeks.
We will be finishing UnLock Math Pre Algebra with Canyon for this school year. I find that it really is the best fit for him to have a teacher, and have the opportunity to move through the sections at his ease.
Check out UnLock Math on these social media sites:
http://facebook.com/UnLockMath
http://twitter.com/UnLockMath
http://pinterest.com/unlockmath/
http://plus.google.com/+Unlockmath
http://instagram.com/unlockmath/
See what other members of the Review Crew thought by clicking on the banner below.


Don't miss a single post
Subscribe to A Year of Jubilee Reviews
and get our latest reviews and giveaways directly to your inbox!