FishFlix.com
has Christian movies that inspire and entertain! I love safe places to shop for valuable movies that I know my family can enjoy together.
I chose
Exploring Ephesus
to share with my older kids and hubby. We so enjoy seeing the sites of where people from the Bible walked and ministered.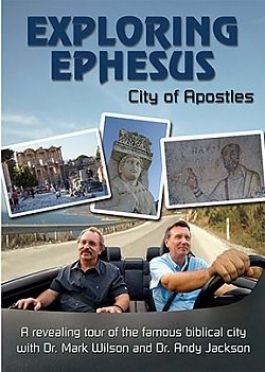 Dr. Mark Wilson (author of Biblical Turkey) and Dr. Andy Jackson meet up in modern day Turkey. They start in Biblical Smyrna, now modern day Izmir. Turkey is where much of the New Testament took place and it is often referred to as "the other Holy Land". Many of Paul's mission trips were to Turkey and many of his letters were written to or from those in Turkey. This is the hub of where it all took place. I love how we can see the countryside as they travel to Ephesus where Paul spent 3 years of his ministry.
They map for us the trips that Paul took, showing some of the ways he would have traveled and the other towns he went through.
There was much pagan worship in the area and the Dr's show us some of the buildings were they celebrated Emperor worship. Greeks idolized their emperors as they were living, where the Romans only did upon their death. Both obviously being pagan and idolatry. Artemis was a big idol in Ephesus as well, with many temples built.There was a column that celebrated both of these cults, Artemis and the Imperial Worship.
2 million people come and visit Ephesus today! It really was a beautifully done historical site. I wish they would have spent more time pointing out more of the various building, but that would be more like going on a Biblical Tour to Turkey. This show really encouraged me to consider doing that. I love having history come to life like this for me and the kids.
They showed one cave that had drawings of what appeared to be Paul. I found that to be really awesome!
The film did provide a variety of places and structures. I really enjoyed having them pick out Bible scriptures that were depicting some of the area at the time, and writing to the people who lived there.
I really enjoyed the visit to Patmos, the island where John got the book of Revelation. It was much more crowded than I had pictured it. Of course over time it has become quite the tourist paradise.
Bonus features include:
The Book of Ephesians
The Seven Churches
Lessons for Today
Music Video
Trailer
Each some additional information with both of the men discussing the topics while in Ephesus. The music video includes some scenes from the movie plus additional scenes set to instrumental music.
There were some small subtitles on some of the shots. I struggled to see them as they were white font and made it hard to see. I saw them better on my computer than I did on the TV. I would recommend those being black for ease in reading in the amount of time we have.
Find FishFlix on these social media sites
Facebook:
https://www.facebook.com/fishflix
Twitter:
https://twitter.com/christiandvd
Pinterest:
https://www.pinterest.com/fishflix/
Google+:
https://plus.google.com/+Fishflix/
YouTube:
https://www.youtube.com/user/familychristianmovie
See what the other Crew members thought of this film and others by clicking on the banner below.


Don't miss a single post
Subscribe to A Year of Jubilee Reviews
and get our latest reviews and giveaways directly to your inbox!