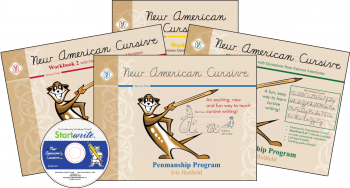 Memoria Press
is great for penmanship work books. The
New American Cursive: Penmanship Program Workbook 1
is geared for first grade and up and is the best place to start to help your children regain the art of cursive writing. $22.95 from Memoria Press, there are three books in the series.
I taught my oldest 2 cursive, then the middle two some how flew under the radar. My daughter, the 5th in the line up asked to do cursive so we brought it back out for her. As we were doing it I realized the two middles had no idea how to read cursive and decided it needed to be introduced for sure. I tried the New American Cursive with my 7 year old to get the ball rolling.
Looking through the New American Cursive was wonderful, it looks just like I practice cursive without even knowing. It is a slang almost from the traditional loopy cursive, and printing.
So why bother with cursive in our age of technology? Kids don't write anymore anyhow. My biggest reason is for them to be able to read history. Whether it be the Declaration of Independence or their Great Grandma Virginia's letters. Much of history will be lost if this generation doesn't learn cursive.
Memoria Press suggests some reasons as well;
1. Cursive improves fluidity and continuity of thought in written communication
2. Cursive improves neural connections in the brain
3. The hands-on process of learning cursive develops the mind and fine motor skills.
We utilized the cursive daily. I would show him how to make the first letter, which has numbers to help show the strokes you use. Then I would have him make the letters. There are three pages per letter. The first is the instructional page where the letter is taught. Next is a practice page where they will write the letters. I have been doing both of these in one day since the learning one is really short. The third page is a place to practice the new letters. I would assign this the next day. I then would move on to the next letter. I think I needed to have more practice though. I seemed like he would forget some of the letters. Repetition is going to be important and I am planning to incorporate more review. If we learn H in the morning I would like him to make some in the afternoon as well, just to emphasize the learning.
There is a review page after every 3 letters which can help you gauge if they are getting the letters down or not.
My son isn't much of a reader or speller yet, but as we learn letters I think it is good for him to learn the cursive way alongside the manuscript. That way I do not having to teach letters twice. Seems like a win for both of us!
I love that the next book in the series incorporates scripture! I really think after we get the letters down, the next step I would like to take is for him to artistically proclaim the scriptures.
You can find Memoria Press on these social media sites.
Facebook:
https://www.facebook.com/memoriapress
Twitter:
https://twitter.com/MemoriaPress
Pinterest:
https://www.pinterest.com/memoriapress/
Google+:
https://plus.google.com/u/0/+Memoriapress1/posts
Instagram:
https://instagram.com/memoriapress/
See what my Crew mates thought of Memoria Press by clicking on the banner below.


Don't miss a single post
Subscribe to A Year of Jubilee Reviews
and get our latest reviews and giveaways directly to your inbox!