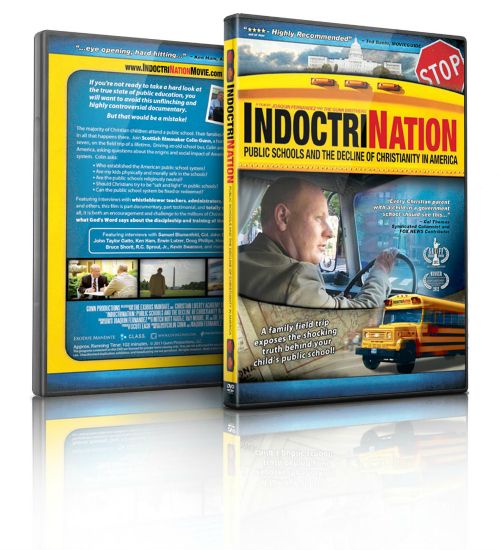 Great Commission Films presents IndoctriNation Public Schools and the Decline of Christianity in America on DVD. This 102 minute DVD for $19.99 is best suited for adults and older teens due to some material being inappropriate for young listeners.
I have had the book of the same title for a couple years and really enjoyed it. The book is great for current home schoolers to energize and refresh their thoughts, but most copies won't reach the ears that truly need to read it. The DVD is so much better suited to target a variety of audiences. I may have a chance of getting a Christian friend who sends their child to public school to watch the DVD, rather than take the time to read the book. So who is the target audience for IndoctriNation?
For those who currently homeschool, the DVD in a sense is 'preaching to the choir'. But.. it is refreshing in that it:
Gives legitimacy to the reasons why we choose to homeschool
Encourages us to keep on the path that we are on
Gives us facts to share with friends and family who currently have children in the public school system.
I believe the target audience would be for those who may be on the fence about home schooling. Those Christian parents who need some facts and insights into what truly is happening in the public school. I would hope that all Christian parents with school age children would watch the film. I think some of them would be offended, but I hope in the same note they would feel a sense of conviction.
IndoctriNation follows Colin Gunn and his family as they take 3 months in a school bus and travel to the country. They hit the states of TX, PA, NC, NE, NY, VA, MA, IN, DC, SC, IL,TN, KY, WV and CO while interviewing teachers, pastors, principles and students.
Twenty-six million kids are daily taken on the big yellow bus to a pagan, government run institution. These schools are indoctrinating our children in;
Sexual Education, premarital sex, abortion
Drugs
Guns and violence
Liberal agenda
Colin Gunn utilizes news broadcasts, scenes from schools, and interviews to dig into these indoctrinating topics. Wasn't our country found on Christian values? What happened to those values in the schools? The Puritans came to America to find that liberty to use the Bible to educate their children. The New England Primer utilized the Bible to teach the alphabet to children. These schools were grounded in the Word. The first actual public school however, was not.
Horace Mann was the first to start a centralized, state funded, compulsory, forced education which was patterned after Prussian Germany. The system was very similar in thoughts to those of Karl Marx, not Christianity. To reclaim our schools and 'take them back' would be pointless as they never started out as 'ours', in the Christian sense.
What happened to learning math and reading? Seems from watching this DVD that the focus in the school is to train the future generations to be servants of the state. The academic levels of the schools continue to disintegrate.
Pastor Voddie Baucham Jr mentions that 90% of Christians make the same decision on one item.. educational choice. They fight over the right version of the Bible to use, and on what denomination is better. They are united in sending their children to public school though.. yet there is no book, chapter or verse in the Bible to justify that. Wow!
I'm obviously already swayed to home schooling. The movie encouraged both my husband and I that we are definitely doing the right thing and we will continue to focus on training up our children in the values we hold rather than the indoctrination that the government is so bent on convincing our children of. With DVD in hand I plan on sharing with those God leads. There are people who need to watch this, who are wondering about the schools and haven't been able to get answers. Colin Gunn doesn't put on blinders to the truth. I pray that this DVD gets into the right hands and that more parents make the grand exodus from the public school system.
Keep up with the latest on IndoctriNation by visiting these social media sites.
Facebook:
https://www.facebook.com/IndoctriNationMovie
Twitter:
https://twitter.com/indocmovie
Vimeo:
http://vimeo.com/indoctrination
YouTube:
https://www.youtube.com/user/IndoctriNationMovie


Don't miss a single post
Subscribe to A Year of Jubilee Reviews
and get our latest reviews and giveaways directly to your inbox!