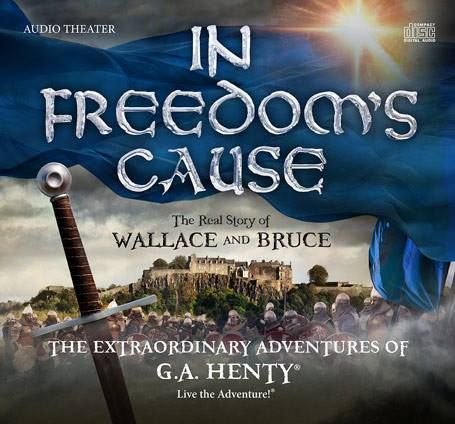 Heirloom Audio Productions has taken G. A. Henty book and created a great audio theater adventure called In Freedom's Cause, The Real Story of Wallace and Bruce.
In Freedom's Cause Single Package
is geared toward ages 6-adult. For $29.97 the package includes;
In Freedom's Cause (CD Set - Physical Copy)
In Freedom's Cause Study Guide (Digital Download)
In Freedom's Cause Soundtrack (MP3 download)
Printable copy of The Prayer Of William Wallace. (Digital Download)
G. A. Henty wrote 120 books in his time, all with historic significance. His tales tell adventures about history that young people have enjoyed for years.
In Freedom's Cause we see Wallace struggling to free Scotland from the clutches of England in the late 1200's. He was a man who fought with valor and dignity, girded in the knowledge of God.
I loved how Wallace sought out God and used Scripture in his message.
I shared this story with my family. We tried to multi task while listening but I wasn't able to do that. It was so action packed and moved so fast that I soon got lost and had to 'rewind' to start over. It isn't a 'light listening' where you can do much more than color or draw while listening. It is 2 1/2 hours in length and best broke up into 1/2 hour sections. It got long for my 7 and 10 year old and couldn't keep their attention. Unfortunately my family isn't big into history, and I had hoped this would excite them, but it didn't. As an adult I have much more interest in History now and I found it exciting to listen to. My older teens listened as well and were able to pay attention and keep focused.
I know many people like to listen to audio drama in the car and this may be a great one for long trips. Hopefully the driver can multi task! I think I could listen to the entire thing if I was on a long trip like that. I just have a hard time sitting still for more than 1/2 hour at a time.
I downloaded the study guide and it looked like it would really make the story more memorable and useful as a history lesson.
The study guide includes;
The Listening Well for questions to help kids focus on what they heard and remember

Thinking Further to have you delve more into the thoughts and actions of the characters

Defining Words to increase vocabulary and look up words the listener may not have caught

Bible Study at the end of the study

Additional information on historic Scotland

A suggested reading list
I couldn't capture the kids attention with the study guide, but I enjoyed looking through it. I think if my kids were more keen on history it would be an excellent accompaniment to the CD's.
In Freedom's Cause would be a great addition to a study on Scottish History, Heroes who garnished their strength from God, or G. A. Henty study.
For additional reviews click on the banner below

Find out more about In Freedom's Cause from these Social Media sites:
Facebook:
https://www.facebook.com/InFreedomsCause
Twitter:
https://twitter.com/InFreedomsCause
Google+: >
https://plus.google.com/u/0/b/112701427096792421838/112701427096792421838/posts
Pinterest:
http://www.pinterest.com/jointhecause

Don't miss a single post
Subscribe to A Year of Jubilee Reviews
and get our latest reviews and giveaways directly to your inbox!