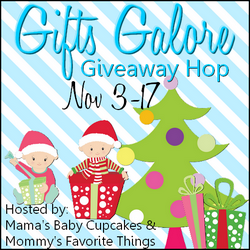 Welcome to the "Gift Galore" Giveaway Hop hosted by Heather from
Mommy's Favorite Things
and Michelle from
Mama's Baby Cupcakes
. This hop has a Christmas theme, which means anything family friendly is up for grabs that you'd give as a gift! Each blog has a minimum prize package of $25 per winner and after visiting my giveaway, make sure you use the linky below to take a look at the other blogs to see what they have to offer for you!
Boy oh boy does Michelle have an amazing Grand Prize for you!! Retailing at $700, this Grand Prize package has something for the entire family.
Heat Holders USA
is offering three pair of thermal socks retailing for $60,
Otter Box
is offering one phone case of winner's choice retailing for about $55,
The Vintage Pearl
is a great jewelry store offering a $75 Gift Card,
Cool Gear
is offering one 16oz Tumbler cup and one 16oz CoolCan totaling about $18,
Isotoner
is offering on pair of Smart Touch Women's gloves and two pairs of slippers totaling $112,
TLC Woodcrafters
is offering your choice of boy or girl themed personalized wooden puzzle with a retail value of $65,
I See Me!
books is offering their fun "My Night Before Christmas" personalized book retailing for $35,
SilverLit
is offering a Nano Falcon which is the world's smallest RC helicopter and has a retail value of $50,
LittleMissMatched
is girls clothing who has offered a $25 Gift Card, a
Beatrix Girls
doll with a $20 value,
Green Toys
is offering two items, one Cook Top toy and one Cookware and Dining set, retailing together for $65,
JC Toys
is a doll company offering winner's choice of a boy or girl real doll with hooded accessories retailing for $60, and last but not least is
Hearthsong
offering a "Sands Alive" kit which retails for $60. Stop by this
Grand Prize post
for your chance to win!
This digital scoreboard attaches to your home basketball pole. It comes with a universal attachment that can attach to most standard poles.
Game modes include
Free Play
Basketball 6 minutes
Basketball 12 minutes
Basketball 18 minutes
Free Throw Contest
11
21
9's
P-I-G
H-O-R-S-E
Each game is described in the instruction manual if your kids are unfamiliar with it. Game lay ranges from 2-4 players.
It has a blue LED backlight for ease in evening game play. With the time change it sure seems we need lights even early in the evening. The Ref button is a favorite, when you push it you play by the ref's decision.
It is water resistant but not water proof so you will want to bring it back in with you after your game play. Battery operated.
I like the free throw game, though it is only 30 seconds. As the free throw guy is throwing, his opponent is pushing the score button with each successful shot. It is helpful to have a 3rd person to get the ball back to the shooter as well. If not, be sure to have a few basketballs handy for more shots rather than time chasing after the ball. GameDay Scoreboards gives you a countdown in the final seconds.
GameDay Scoreboards
would score as a super gift for the holidays for basketball players of all ages. The scoreboard retails for $29.99 and can be purchased on
Amazon.com
or directly from
GameDayScoreboards.com
.
Get in on the action and save $5 for a $24.99 price of the GameDay Scoreboards by clicking on this special link for a limited time only!!
Enter to w in a GameDay Scoreboards for your holiday gift giving!
Check them out on Facebook
GameDay Scoreboards
Mama's Baby Cupcakes, Mommy's Favorite Things and the "Gifts Galore" participating bloggers are not responsible for sponsors who do not fulfill prize obligations.
Don't miss a single post
Subscribe to A Year of Jubilee Reviews
and get our latest reviews and giveaways directly to your inbox!