This program is perfect for all ages! Success Package (One payment of $299) gives you unlimited life-time access to
HomeSchoolPiano
along with all bonuses (downloads, jam tracks, sheet music) for up to 5 students.
There is also a Payment Plan option (Payments of $99.97 per month for three months):
Unlimited life-time access to HomeSchoolPiano along with all bonuses (downloads, jam tracks, sheet music) for up to 5 students.
We received
HomeSchoolPiano- Complete Set of Books
which includes Core, Book 1, Book 2, and Book 3. You have access to all of the lessons, all of the time. This is perfect when your are utilizing the program for students of varying talents.
The program starts with DVD lessons on the core of learning piano. It teaches about posture, notes, keys, how to strike the note, rhythm and so much more. Starting with the core lessons quickly gave us the basics on "How to play the piano" prior to learning much in the way of music. It gave us the basics that you need to learn first to be successful.
Shiloh would watch the DVD and practice what she learned, quickly moving through the Core Lessons on her own. She was very excited to get through them and was able to move quickly. One key component of HomeSchoolPiano is that you can move at your own pace. No need to wait until that next weekly lesson comes around.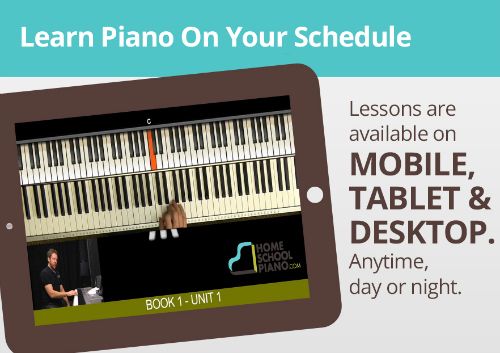 I had a Kindle and there wasn't an app available for that. I can't wait till there is, it will make the learning so much easier. She can put the kindle right on the piano and copy as she goes. The laptop worked fine with a table right beside of her to put it on.
I love that when I return to HomeschoolPiano on the laptop it picks up right where I left off. No need for me to remember what was the last video Shiloh watched. A busy mom appreciates having one less thing to remember.
I started with with Book 2 even though I have had experience. My struggle is that I have a hard time remembering the left hand. I thought with starting with Book 2 I could refresh my memory on putting the 2 hands together. There are work book pages you can print out to use for review.
Though I don't have as much time to work with the piano as I would like, I am glad that when I do have the time it is easily accessible to me.
My daughter has already asked if we can include piano this year for school so she can keep going. SURE! I am so excited that she is enjoying it. She loves the lessons and they are easy for her to understand and mimic. She was even starting to teach her 17 year old brother who wants to learn as well.
Great program!!
Check out HomeSchoolPiano on these social media sites.
Facebook:
https://www.facebook.com/HomeschoolPiano
Twitter:
https://twitter.com/jazzedge
Pinterest:
http://www.pinterest.com/jazzedge/
See what the other Crew Mates thought by clicking on the banner below.


Don't miss a single post
Subscribe to A Year of Jubilee Reviews
and get our latest reviews and giveaways directly to your inbox!