Mango Languages
is much like walking into a candy store full of brightly colored treats, with the proprietor, arms wide open saying "choose"!
With over 50 languages available, you may want to sample several, and thankfully you can. There is no limit on the number of language courses you take. What other program gives you such flexibility, with so much variety of language?
Teaching a foreign language can be very daunting, especially if your child wants to study a language you have never heard of! Languages like Azerbaijani, Dari or Haitian Creole for example. Believe me, your child will see some of these languages and choose them simply for the uniqueness of it!
We were given access for one full year to Mango Languages for 5 people in our family,
Mango Homeschool Edition
. During the review period we had some major changes in our family when my brother and niece ended up moving in with us. Our original plan was to have each of us choose one language and work our way through it. Because of the changes around here we went with one student, my 11 year old working on Polish. My husband is 50% Polish and we thought it would fun to learn more words and the language that their Jaja (Grandpa) spoke as a child.
Wow, Polish is a hard language! We started the lessons, and wrote down the words as we worked through it. There are a lot of unique sounds in the Polish language and it was very difficult to remember some of the words. I do like how they would repeat them several times, then have us repeat them. The program also included grammar information which was super helpful.
To utilize the program more fully, we dabbled in several of the other languages as we studied different countries.The commons is where you can explore all of the languages available. You can get a sneak peak at each one, which was helpful for us when we just wanted to hear a few basic greetings in that language. To get enrolled in a language you add it to your space. I really appreciated the opportunity to explore different languages before enrolling in that space. The Demo gives you more than enough information to see if that is what you were looking for in a course. As we did various unit studies on countries, we were able to hear Japanese, Spanish and Ukrainian.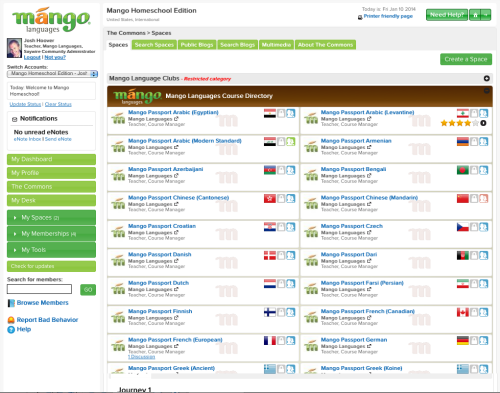 When you join the community of the language you choose, it opens up full access to those lessons. My 11 year old is a member of the Polish and Pirate community. We did pirate for fun, and it really was fun for the whole family! Another one that would be fun if it was added in would be Australian. I know they speak English, but to have some of their slang would be really fun.
Once you are into your space you will see a home page like this one below for Latin. This will give you a passport to get started in that language.
You log in to Mango and your language will open in a new tab. Each lesson will have conversational and grammar goals for that lesson.
Another great is utilizing the app, Mango Languages for additional support.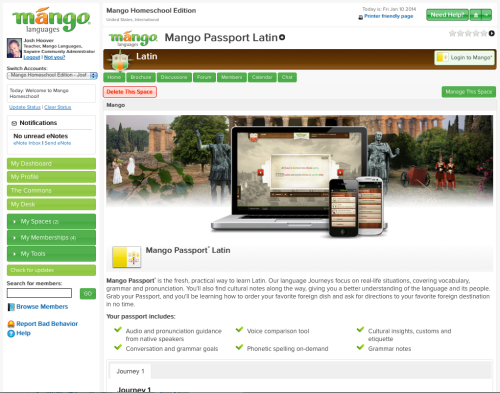 If you have an older student the program also offers clubs and interaction between other members. We didn't use this with our younger children, but it would be a great addition for a student taking a high school level credit.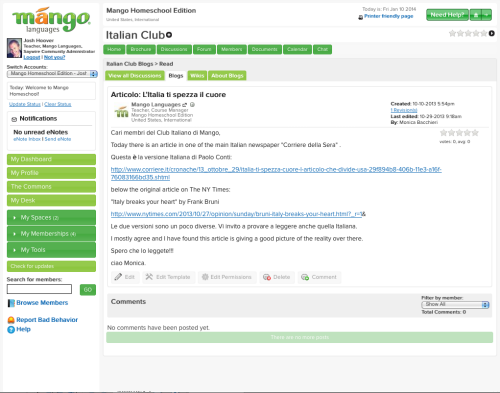 There are videos to show how to find your way around the website. Videos explain and show you how to do just about everything, which as a non-techy person , I found this to be very helpful.
Mango languages is geared for ages 6 through adult.
This is their introductory pricing.
1 subscription is $18/month or $125/year total
2 subscriptions is $28/month or $175 /year total
3 subscriptions is $38/month or $225/year total
4 subscriptions is $48/month or $275/year total
5 subscriptions is $58/month or $325/year total
Anything over 6 subscriptions is a special group rate that will depend on the number in the group.
Mango Languages has been around for 7 years, primarily in the public library marketplace. They are continuing to develop their program for homeschool families. Currently these items are available.
Over 60 different languages
Progress Assessments

Built-in journals, discussions and wikis
Collaborative learning spaces
eNote messaging
/chat rooms

Access to embedded/downloadable content

Support from other community members

Calendars to schedule meetings or study groups
Over the next several months, we'll be introducing other exciting features like:
Enhanced Tracking and Progress Monitoring - including seat time (for students and parents)
Goals and Personal Lesson Plans (both stand-alone and tied into Mango courses)

Resume and Portfolio Builder
I love a company that is striving to make things even better for the student and teacher! The program alrady is amazing, and it just continues to get better and better.
As we settle more into a routine with adding in family members I plan on getting my older 2 students involved with Mango Spanish. They have studied Spanish through other venues, and I feel this would be a great complement to their classes. The Mango team is working on assigning credit for high school students as well, making it easier for parents to know what is required to fulfill a credit at the high school level.
Be sure to check out Mango Languages on these social media sites.
Twitter:
https://twitter.com/MangoLanguages
Pinterest:
http://www.pinterest.com/mangolanguages/
Facebook:
https://www.facebook.com/MangoLanguages
See how other reviewers utilized this program by clicking on the link below.

Don't miss a single post
Subscribe to A Year of Jubilee Reviews
and get our latest reviews and giveaways directly to your inbox!