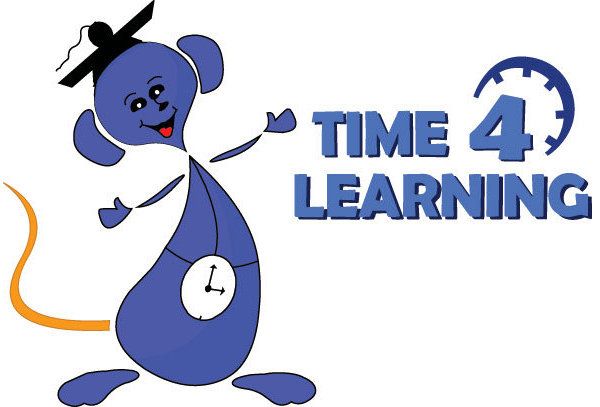 Time 4 Learning
is an online educational curriculum for preschool through high school aged students. It works perfectly for homeschooling, after school lessons and tutoring. It covers Language Arts, Math, Science, and Social Studies.
There is lesson previewing and planning as well as technical issues you may run into.
I can from the Parent page, manage our account including the activity scheduler. I have the option of assigning lessons from the grade above and below my student to ensure he is learning at his target level.
Being he is only 5 years old I did log him in and have to maneuver to where he needed to be. I had hoped to just be able to let him go free and work on Time 4 Learning without me, but that really was asking too much on my part. Once I get him to the lesson he is on, he gets excited to share with me what he is learning. I decided to just set him up on the main PC in our school room so he can tell me what he needs to while I work with the older kids on their lessons. It has worked out wonderful that he is doing fun, engaging activities that are teaching him.
It wasn't uncommon that I would get confused as to where Maverick was in his work. If I didn't put a check mark on the activity sheet, it was lost to me how far he had gone. I wish there was a way that as he finished a section, it automatically marked it off for me that it was complete and would go immediately to the next section. We typically took a little bit of time to figure out where we needed to start out. Now an older student would be able to easily take care of this on their own so it wouldn't be a problem. It was just some record keeping skills that I had a hard time remembering to do.
Maverick loved using the computer for his school work. It kept him entertained and was very visually stimulating to him. Math was his favorite as it was a bit more challenging for him.
The reading started out very basic but I hated to skip anything in case he might miss it. It has become a little more involved now with specific letter sounds and names.
There is a fun activity for him to work on after his lesson like this painting activity.
I think the higher internet speed the better to use this program as well. We had Time 4 Learning and then a couple other computers going at the same time and it did tend to bog it down some. It is such a detailed and fast paced program that you will want to utilize all it has to offer.
$19.95/month for first child; $14.95/month for additional children.
The subscription does allow you to utilize the grade above and below your choice of grade to ensure they are able to work at their ability.
Sign up to see Demos
here
See what some of my crew mates thought of Time 4 Learning and check out some of the other grade levels that they reviewed by clicking on the link below.

Don't miss a single post
Subscribe to A Year of Jubilee Reviews
and get our latest reviews and giveaways directly to your inbox!