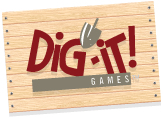 Dig-It! Games
are bringing history to life! I must admit as a child, history was my least favorite subject. I couldn't get into the dry text and monotonous tone of my history teachers, and didn't form a love of history to much later in life. I have tried as the teacher now, to make history come alive for my own children. History is so exciting to me now as an adult and there are definitely ways to make it exciting for kids today.

The
Mayan Mysteries
game takes a very in depth look at the Mayan culture, through the use of questions and answers and games associated with it. I have a desire to someday visit some of the Mayan ruins and for me, besides Biblical History, this is one of the times that intrigues me the most.
I first decided to introduce this game to my 11 year old. It is geared for ages 11 years and up so he was just on the beginning end of it. It was a bit hard for him. He is not a 'reader' and was under the impression that this would be more 'game' like. He is spoiled with the Nintendo games I think and was not thrilled to have to read so much and then be tested on what he read. We tried the game several times with my helping him read and remember the answers. Digging up the actual artifacts didn't thrill him either unfortunately. When you mention 'game' to him, his mind is convinced that it shouldn't be educational. He was not the best test subject for this game like I had hoped he would be.
I on the other hand loved it! It was not an easy game at all, especially with my short term memory issues. I didn't score perfectly and those rascal looters nearly caught up to me! It took me awhile to figure out I needed to move my mouse over the artifact area to clear it, but once I got that down it wasn't too bad. I love the real life photos of the Mayan culture. Love the information on the Mayan calendar. The Mayan Math was tough for me and I enjoyed learning about it.
I received a year online subscription for the Mayan Mysteries. It is for a single user, but I can start a new game under a different name. I am interested in having my 14 year old work with this program this coming year when we study some Ancient History.
The total program takes about 12 hours of playing time, so if metered out could last for a nice long session on learning about the Mayan. I think utilizing this program and then doing some additional study would be a fantastic unit study on Mayan culture. With the history and math components already included, you would only need to add some reading and writing on Mayan history to make it a great study. I think you could easily find some art work or glyphs to include.
The single user subscription for one year is $21.99. There is also an ipad app for $9.99.
See what some of the other reviewers thought of Mayan Mysteries by clicking on the banner below.