25 Truths
is Ed Douglas's ministry of truth and guidance based on Christian principles. A certified financial planner for over 32 years, Ed has utilized his gifts to give seminars and write books on financial planning and the freedom of being debt free.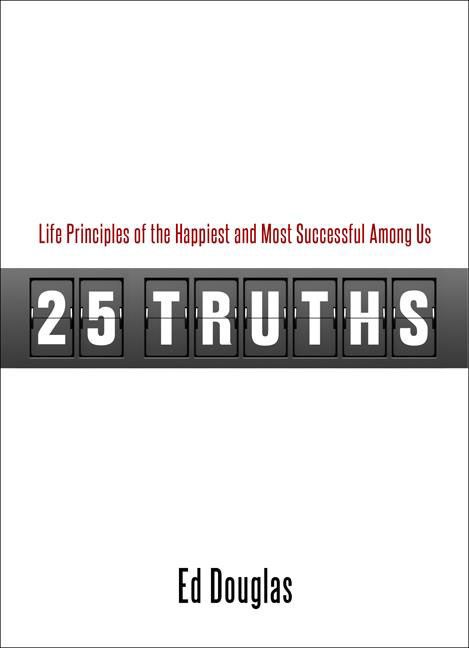 His third book,
25 Truths: Life Principles of the Happiest and Most Successful Among Us
began as a three page list of truths he had shared with those around him, and now in it's final form as a 150 page book selling for $15.50.
These 25 truths are broken down into individual chapters. The first "Protect Your Reputation" we sat down as a family after dinner while I read the chapter to the family. Ed Douglas gives us a personal story on reputation. He then gives a summary statement for the truth "Your reputation is your most important asset. Protect it."
The Workshop section has questions for discussion. I asked the questions and we went around the table and answered our thoughts.
Our family ranges from age 5-18 and the first two truths we were able to get through without any trouble, easily being able to explain to the younger ones, though it was interesting to explain "Lewd" to a 5 year old.
The third Truth's example discussed a Governor and his affair as the real life story. I had to skip sections of it to share with the kids and at that point decided that reading it at night all together wasn't going to work. The book is geared for 6th grade and up, though this example wouldn't be one I would care for my 6th grader to hear. I think that this would be a better suited book for high school students.
Many of the characteristics that are modeled are great ones to share, and most don't have such a colorful example. You need to read it first before sharing. We continued on, with my reading ahead to make sure it was one to share with everyone. Our list got whittled down from 25 truths. I could probably take the truths that are a little harder to hear, and give an example that would be more suited for my younger children.
The 25 truths are based on Christian character and some of the truths have quotes at the beginning that are from the Bible. The examples aren't overly 'religious' though and I think this could be a book you share with friends and family without being 'preachy' to them until they get to Truth 23. This truth, "You've Gotta Believe", begins by talking about the need to believe in a higher power, and in a roundabout way, that God is that power. Ed Douglas does use his personal relationship with Christ as the example.
The truths run the gamut from exercise, getting married, education, loving others, positive thinking and even finances. There is a little of something for everyone in this book, whether you read all of the truths to your family or store them up for yourself
See what my fellow Schoolhouse Review members thought of 25 Truths by clicking on the banner below