College Prep Genius
is the brainchild of homeschooling mom Jean Burk, started to help students learn to master the SAT and PSAT tests, the goal for getting serious scholarship dollars for college.
But what about the parents like me, that aren't even to the point of thinking about the SAT or ACT tests, we are just starting out with a high schooler and are clueless to how the time flies?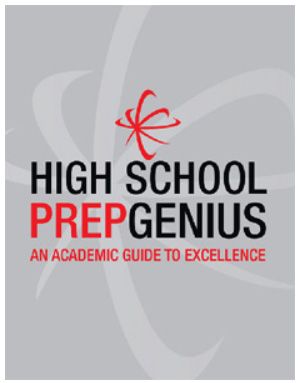 High School Prep Genius
for $29.95 is a fantastic resource! I actually do know how quickly time flies as we are graduating our first homeschooler this spring. He was just a kindergarten graduate a few years ago, or so it seems. He was the guinea pig, and I so wish someone would have shared this book with me 4 years ago. But there is hope as I have 5 more coming up the pipe! I chose to delve into this book with my now 10th grader, and next year will start it with my new freshman. Yes I have 3 teenage boys!
So what is High School Prep Genius?
It is a wealth of information on all things high school academic related.
It is a guidebook for parents and students to lead the student on a path to a great career, by navigating the high school years in a purposeful manner. We work out of a College and Career notebook, adding to it as we plan and record information.
I remember having to try to think of what my oldest did volunteer wise, activities and awards as he is a senior, trying to think back 3 years. It doesn't work. This college and career notebook will give us the information as we progress, making filling out those scholarship applications much easier and fully represent what the student has accomplished.
Some topics included are
Personal development
Discovering your interest
Belief system
Personal Health
Studying
Getting organized
Test Taking
You start with the personal aspects and move into more of the role of high school and the preparation for college. I liked how the initial focus was on the student and their own personal self first, then moved into the topics of high school.
We chose to read a chapter weekly, and discuss it. There are think about it sections, discussion questions, and homework for the parents at the end of most chapters. There are 18 chapters and some we did end up combining. Getting a jump on the reading early in highschool will plant the seed in your student's mind that 'this is for real'. Sometimes as a homeschooler. My kids don't understand the seriousness of school, as we typically are a little more laid back. Come high school however, we are in the window of it kicking up a notch and 'counting' for long term.
I was amazed with the wealth of information in this book! Starting as early as 7th or 8th grade, you can use this book to begin looking for scholarships and planning out the stepping stones of high school. I find that if you start at the beginning of freshman year you will be a step ahead. I know my 8th grader rather play video games than think of college, but as we move into his freshman year, we will start adding in ideas from the book as we go.
Follow along with College Prep Genius and their
blog
for great articles!
Also find them on
Facebook
and Twitter
@collegeprepgeni
See what my fellow TOS Review Crew team thought of this book by clicking on the banner below.