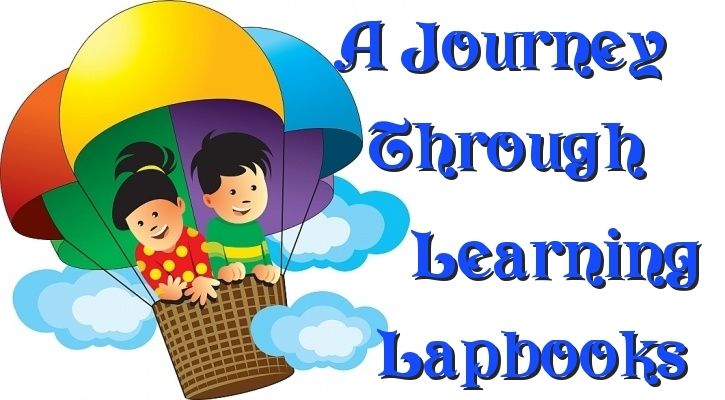 A Journey Through Learning Lapbooks
"Scrapbooking with an education twist". That is so true! I love, love, love lapbooks. If you have never utilized this creative form of learning, you are in for a treat. Such wonderful, hands on way to delve into a topic. It is much like a unit study, where you are doing mini books and mini lessons to put into your lapbook. For my extra crafty children, this is one of their favorite ways to 'do school'. Often times not even considering it school, but more of arts and crafts. And being a craft lover myself, cutting, pasting and coloring while learning is right up my alley.
For review I received a download of four different learning lapbooks. Where to start? I decided my 5 year old really would enjoy the
Letters, Numbers and Shapes
(ages 3-5) so I had hubby print this one out for us in color!
For the pictures of the letters we used an old seed catalog and grocery flyers we got in the mail. We were able to get most every letter with a food product! So be sure to save some of those magazines that come along, 5 year olds love to cut them up!
Sometimes getting my 10 year old to do school can be difficult. One thing he loves is crafts. I know his love of medieval times, so I decided to try an additional lapbook,
Knights and Castles
(grades 2-7).
Because he is a little bit older, his lapbook required more writing for each of the mini books. It also required more reading to learn about each component. We learned all about knights from how they got started, to their weapons and attire. He was really close to guessing how much their armor weighed, guessing 60 lbs! Anywhere between 45-70 was about how much weight a knight could be carrying with all of the gear.
Seeing her two brothers doing lapbooks, my 8 year old daughter comes out of the woodwork and she wants to do a lapbook too. She is in luck that we have
The Earth
(grades 1-4). Lapbooks really are a fantastic tool for any age, proved by three of my children wanting to get involved with a Journey Through Learning Lapbooks!
I reviewed instant downloads of these lapbooks which sell for $13. Some of the lapbooks have a CD option for $14 and printed options for $20-$21.