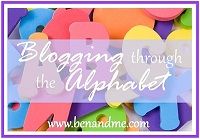 A is for Apple and Artist
There are so many great things I want to do with my youngest, age 5 that seem to get lost in the shuffle of schooling his 5 siblings. I was excited to hear about the Blogging Through the Alphabet blog series, and thought what a great way for me to spend time each day with my little one, doing 'school' and working through the ABC's with him specifically! Since I love Unit Studies and Five in a Row, I am going to take the opportunity to utilize those things along with our study. Prayerfully it all falls into place without too much work on my part!
So here goes Letter A
I decided to go with 2 FIAR books for the letter A
So A is definately for apples and we utilized the Apple to be an artist.We had real and artificial apples on display and used watercolors to paint an apple.
HERE
) to make Bite Sized Apple Pie. Yummy and so much easier than making pie!