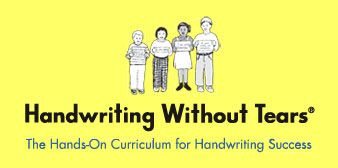 Thankfully we are just started out our youngest with writing and have not had any tears yet. I do know that it has been a fight with some of my older ones, especially the boys. For some reason my boys aren't that keen on learning to write, and doing it well. I was excited to try the
Handwriting Without Tears
program for my Kindergarten student, a 5 year old boy. I have high hopes that we can do handwriting through a different approach with him, and prayerfully without tears! This hands on curriculum is geared toward Pre K through grade 5. Beginning with learning letters and numbers, to printing, and then to mastering cursive. Grade 5 offers practice for students who still need mastery.
Handwriting Without Tears has New Editions in it's K through Grade 4 program. With this program you can use just 15 minutes a day to educate your child in correct formation of letters, proper placement, and practice in writing skills. With 36 weeks of lessons, this program will go the entire school year.
I find with my children being more active on the computer, that their writing skills are going to decrease. I think it is still so vital for them to learn proper printing and writing skills. It stimulates their brain much better than simply typing on the keyboard.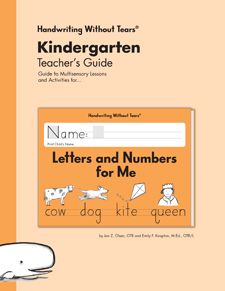 I looked over the
Kindergarten Teacher Guide
first when we got the program. Thinking to myself quite honestly, why would you need a teacher guide for writing basic letters? Given my record of students learning to write so far, I am certainly not qualified to teach handwriting. The teachers guide gives suggestions for spacing, developmental teaching order, active teaching ideas, and even foundational skills that I wouldn't have thought of. I do feel that the teacher guide is a great asset. Economically priced at $9.25.
In addition when you see a smiley face on the page, there are resources available on
A Click Away
(online) for downloading. You have a specific code on your Teacher's Guide that allows you to access these resources. It includes music, lyrics, and downloads to help give more learning prompts for your young Kindergarten student. There are also exclusive videos that you and your student can watch to go along with the lessons. Titles like; Capitals on the Door, Teaching with Voices, Magic C Mystery Letters and others. These videos are definitely something my 5 year old will enjoy. They do not start until page 43 so I took a peek ahead at them and they are about a minute in length. Some of them do utilize additional resources that you can purchase from Handwriting Without Tears.
The Teacher's Guide has A LOT of helpful information. It can be a bit overwhelming at first, I strongly suggest taking a couple of days to look over it, process it and see what aspects you may want to utilize before you jump into the student text.
Letters and Numbers for Me
$8.99 is the Kindergarten student text. It is a full year program beginning with teaching capital letters in similar order rather than alphabetical. It then moves on to lowercase in the same character shape approach. It also contains numbers which I love!
My son wanted to zip through several lessons, he enjoyed it so much. We utilized some of the extra suggestions in the Teacher Guide to give him additional practice with the letter we were learning that day.
There are several additional resources you can purchase to go along with the teacher guide and student workbook. These are not necessary, but simply give additional aid if you find it helpful.
Wood Pieces for Capital Letters
($32.00) where the student can get the tactile learning of physically building the letter. I love reading about these, and feel that my K student would really benefit from this product. These along with the
Capital Letter Mat
($4.25), and
Capital Letter Cards
(unlaminated $9.75) are resources that can just add a little bit more to your program.
Disclaimer: I received a free copy of this product through the Schoolhouse Review Crew in exchange for my honest review. I was not required to write a positive review nor was I compensated in any other way. All opinions I have expressed are my own or those of my family. I am disclosing this in accordance with the FTC Regulations.