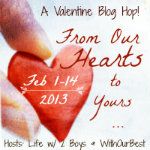 Welcome to the 2nd annual From Our Hearts to Yours Valentine's Day Giveaway Hop hosted by
Life With Two Boys
and
With Our Best
. Each blog participating has a prize of at least $25 worth of Valentine-related items so after you have entered my giveaway, I encourage you to hop along and see what the other bloggers are giving away too!
With over 245 scents to choose from,
School of Wash
has a scent for everyone! Custom designed for you to suit your scented interests! No need to visit a fancy pants bath product store when you can sit at your computer and have a wonderful line up like School of Wash!
Products for Men, Women, Kids and even pets.. Don't let Valentine's Day slip you by this year, get original with School of Wash designed handmade products for your sweetie.
What about the smallest sweeties!
"Don't forget that special friend, daughter, son, niece, nephew or grandchild this Valentine's Day! Give the gift of School of Wash™ handmade bath products. Pick your favorite products to include in your gift pack, and your little cupid will receive their products wrapped in a special Valentine's bag with a personalized "Max the Superdog" Valentine Card!
Each set will include pre-determined scent selections (scents are determined by recipients gender), these selections may include: Candy Cream, Candy Crush, Candy Frosting, Chocolate, Cupcake, Love Spell, Pink Candy, Pink Sugar Cookies, Rose Garden, Strawberry Frosting, Sugar Bubbles, Sugar Cookie, Sugar Rush, Sweet Tarts or Sweet Treat.
*Due to demand, our Valentine's Gift Packs include a handling time of 4-6 days."
My kids actually get more excitement out of Valentine's Day than my Hubby does. I love to spoil them with love on this special day.
School of Wash spoiled them with not only review products for me, but for each of my children. I was so amazed and blessed!! What a blessing to have a gift for each of my 6 children and myself from a sponsor!
My Teen Shavers each received
Hombre Shave Cream
and
Barber Shoppe Dusting Powder
.
No more borrowing Dad's Shaving Cream, they have their own and it smells so manly!
Super smooth on their skin, they didn't have any irritation. Paraben and Talc free, these products are not only
My middle boys each were able to try the
Body Wash
and
Body Lotion
for Men. My 13 year old had me feel his arms and face after he washed, they were so smooth and soft! I think they are loving having their own body wash and lotion that isn't Mom-like!
Body Wash
,
Handmade Body Lotion
and
Flavored Lipbalm
.
I am loving how School of Wash has a line for everyone! The best has got to be the one for Her..(maybe I am biased!)
Whipped Pumice Foot Scrub
, Whipped Sugar Scrub, Lotion Bar and a lipbalm were in my gift bag. Felt like I had a best friend!!
The footscrub is divine, mine are rough and coarse and this was gentle and relaxing to use on my piggie toes! I tried the Pink Champagne like in the photo and it smelled wonderful.
I was able to try the
Blue Candy Sugar Scrub
and I loved this scent as well. A sweet but not over powering sugar candy scent.
I absolutely love
Lotion Bars
and have made them in the past. They are a MUST this time of the year. School of Wash bars are fantastic, and come in a container you can slip in your purse for your dry hand needs throughout the day!
I have just begun to touch on some of the products that School of Wash has! There are so many choices, and the scent choices is huge for each one!! I am looking to get some body butter next time I need a lotion. I suspect that is just as wonderful as the other products our family has been able to try out this week.
You can enter to win Little Cupid Valentine Pack for a Girl or Boy!
School of Wash Social Media Links
https://twitter.com/schoolofwash
https://www.facebook.com/schoolofwash
http://www.schoolofwash.com/blog/
http://blog.schoolofwash.com/
http://www.youtube.com/schoolofwash
US Only
a Rafflecopter giveaway