Grace & Truth Books
is an online Christian Bookstore focused on glorifying God, and sharing His truth with people who desire to know Him better.
They offer a wide selection of books in every category you would find at the Christian bookstore. As a TOS review member we had several great titles to choose from in our review. I chose
With the Children on Sundays
, a book I have heard about for years. A great classic first published in 1893, written by Sylvanus Stall. So how 'fun' is a book going to be that was published so long... ago?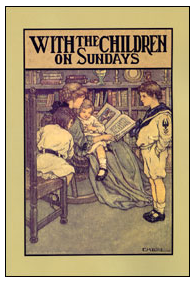 In the day, Sunday's were kept as the Sabbath Day, much more than I think we do today. They went to church, had a nice big lunch and had the afternoon to rest and relax. Children I imagine still needed a bit of direction and teaching on Sunday afternoon. Originally individually published sermons, With the Children on Sundays was published in book form in 1995. It is a fantastic family worship book that can be used on Sunday afternoons for devotion and family time. The basic message is geared for all ages, but those 4-11 will find it particularly interesting. 52 chapters makes it a perfect year long Sunday reader. Priced at $17.50, the book is large in size and the print is a facsimile of the original, so large print.. perfect for those who are refusing to believe they need reading glasses (me!).
Subtitle of the book is Through the Eye-Gate and Ear-Gate Into the city of the Child-soul. That is just a beautiful example of what this treasured classic can be for the family. I can envision sitting around the dinner table after Sunday afternoon meal, with my grandchildren, picking up this book and sharing with them 10 years from now.
Each lesson is focused on an object: stone, iron, rain, watch, heart, camera, etc. Taking that object there is a lesson presented around it. This is a fantastic way to help children understand when they have a tangible object to look at and reflect on. It gives them the eye gate approach in addition to just hearing. Our Sunday afternoons get busy with farm chores and such so we were able to read a few of these throughout the review period. I loved the ease of using them, there is none to very little preparation needed to presenting. Most often just having the object of the lesson available. Easy to read, Biblical truths to share. It was a blessing to my family. I want to utilize this book more and as we go into the winter months with it getting dark at 5pm, I know we will have much more time on Sundays where we are in the house relaxing, and I can continue in with it. Even my teens liked the object lessons and though they found some of them 'old fashioned' they did see the relevance even to our lives today. God's word does not change and is relevant for all generations.
A few other Titles from Grace and Truth I thought looked worth the second glance were...
Raising Maidens of Virtue
Courtship & Dating: So What's the Difference
Children's Heritage Series
And there were so many more. You can see what other members of TOS thought of With the Children on Sundays, as well as the Titles above by clicking on the banner below. Take some time to browse Grace & Truth Books, they have a huge selection and with free shipping on orders of $49 and over, you can stock up for the holidays!
As a member of the team I did receive a copy of With the Children on Sundays to better facilitate my review. All opinions are solely my own.

Be sure to check out
Grace & Truth on Facebook