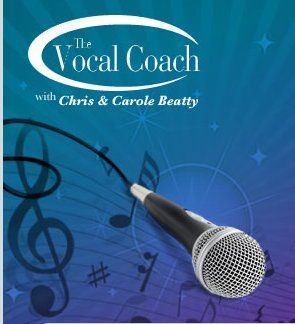 Vocal Coach founders Chris and Carole Beatty have taught and coached singers for over 40 years. They put their knowledge and expertise on CD format for vocalists everywhere to have the same teaching.
It isn't always easy to find a vocal coach, nor is it economical when you just want to improve for your own desires. I was in a pageant as a teen and had my pastor's wife who was a skilled vocal teacher work with me for a short season. Much of what we worked with, the breathing and diction and tone, are similar to what the Vocal Coach has you do.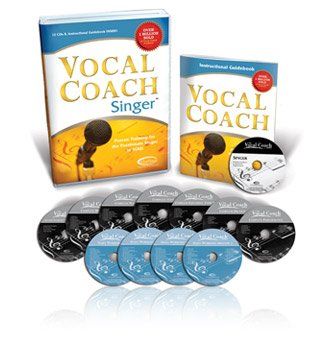 Vocal Coach Singer comes in a set of 11 CDs for $119.99 or for MP3's $99.99.
7 of the Cd's are training CDs
Getting Started
Complete Breathing
Complete Warm-Up
Complete Tone
Complete Expanding Your Range
Complete Diction
Complete Performance
4 are specific to your vocal range
Daily Workout High Voice 1 & 2
Daily Workout Medium/Low Voice 1 & 2
We started with the Getting Started CD which gave a synopsis of the other CDs in the set.
Breathing is much more than the simple act of breathing, but more of a conditioned, breathing from the right area of the diaphragm, and exercise for your singing.
Warm-up is necessary for singing just as it is for any sport or activity that requires your body to perform.
Tone is your natural vocal sound and learning to feel the sensation of a good tone.
Expanding your range can be done to make the transition from your natural range to fill in those gaps where you tend to loose voice.
Diction is the pronunciation of words, often time needing emphasis as you sing so they are clearly understood.
For performance you need to be able to not just sing the song, but express it through your body and face as well.
We used this set with my 15 year old son, with a changing voice.. so it was a bit interesting. He is playing guitar and desires to be able to sing along with the praise and worship music he is learning on guitar. Exercising his voice and learning about the different components is important to his desire to sing along.
There are daily workouts geared toward his voice range, including PDF's of Lead Sheets, Workout journal, and Vocal Coach song evaluation forms.
We have just begun to work on this process, and even though my 15 year old finds it comical to sing mum, haha, mee may mah moh moo!! I know from having taking vocal lessons that is how it is done.
It is fantastic to be able to work in your own time, in your own home and increase your vocal strength!
Vocal Coach also has a program geared for children called
Teaching Kids to Sing
which is geared for children aged 5-13 and comes with 2 DVDs and 1CD.
As a member of the TOS review team I was given a Vocal Coach Singer MP3 set for free to better facilitate my review. All opinions expressed here are solely my own. Please click on the banner below to see what my Crew Mates thought of Vocal Coach Singer as well as the Teaching Kids to Sing from Vocal Coach!