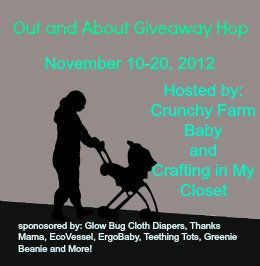 Welcome to the Out and About Giveaway Hop, by hosts
Crunchy Farm Baby
and
Crafting in My Closet
! This fabulous group of bloggers has put together some awesome prizes, all consisting of items that are great for mamas and daddies when they're out and about with their little ones! Our hosts are offering
two
grand prize packages that you can enter to win on their sites. At Crafting in My Closet, you can enter to win a grand prize pack full of items for babies; and at Crunchy Farm Baby, you can enter to win a grand prize pack full of items for toddlers! After entering my great giveaway, make sure to head to the linky at the bottom of this post to enter all of the other giveaways!
This event will run from November 10th at 12:01am and will end at 11:59pm on November 20th. Unless otherwise stated on the individual blogs, all participants must be 18+ and live in the US.
Please make sure to join us for a Twitter Party on November 21st from 9:00-10:00pm EST! We will be giving away some great prizes during the event, as well as announcing our grand prize winners! To RSVP to the party, simply enter either one of the grand prize giveaways and more info will be sent to the email address given. See you there!
Need a daddy to be gift?
Daddy Scrubs
has the perfect expectant father gifts! Whether you are shopping for his big day, or want to suprise him with a thoughtful Christmas gift, don't forget those new dads.
What is more fun than a New Daddy getting some gear to go along with his new role? Check out this
Daddy Diaper Pack
, no more carrying those frilly, fancy diaper bags, now you can have one geared for Daddy.Lots of zippers and pouches to store all of baby and daddy's 'stuff' while they are out and about on the town.
Dad's want simple and functional. This nice black backpack can even be used by Dads with toddlers and older children for a day at the zoo, hiking, and more. It doesn't look like a 'diaper bag' at all, which is exactly what Daddy will like!
The design allows for Dad to reach into the backpack and retrieve needed goods without always having to take the pack off. It has a nice big opening in the middle for clothes and diapers. Side pockets work great for sippy cups and bottles.
Did your hubby stay with you in the hospital when the little ones were born? What a great way to pack his overnight bag for the next baby! How giddy would a expectant father be to pack his own Daddy Scrubs Diaper Pack and get ready for his trip to the hospital? I know mine would have just glowed. My hubby's youngest if 4 so we don't need diapers anymore, but you better believe he still has use for a great easy to use backpack when our crew heads out. Works so nice for me also for him to carry the bulk of the load!
Veteran dads still appreciate the I'm the Daddy apparel from Daddy Scrubs. My hubby is a veteran of 6 and still wears his scrubs for fun. The Daddy Scrubs
Tshirts
are great gifts for new dads.
Hoodies
and Hats make great new dad gifts, as well as veteran dads!
Find out more about Daddy Scrubs and founder Robert Nickell, what an inspiring story.
Enter to win a Daddy Diaper Pack in the Out and About Giveaway event!!
US Only
Ends Nov 20th
Follow Rafflecopter for all the ways to enter and follow Daddy Scrubs on their social media.
a Rafflecopter giveaway
Daddy Scrubs is a great Christmas Idea and is in the Christmas Jubilee guide Book!