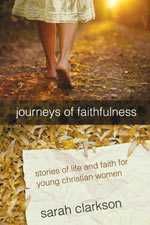 I have been blessed this year to be introduced to the many products of
Apologia
, which I was unaware extended much beyond just their incredible science programs!
In
Journeys of Faithfulness
by Sarah Clarkson looks at the lives of Ruth, Esther, Mary mother of Jesus, Mary and Martha Lazarus sisters. Sharing the life story of these women of the Bible, Ms. Clarkson seeks to bring young girls into a deeper understanding of Gods love in the 'ordinary' girls. That they don't have to be 'spectacular' in the world's eyes to be used by God.
Three chapters are devoted to each woman (Mary & Martha together) each beginning with a fictionalized account of their life. It is of course Biblically based, but Ms. Clarkson takes writers liberties to write what may have happened given the historical times, and the character of the woman she writes about.
After each story there is a devotional that can be easily done with Mother and young daughter, approx 12 or older. Then there is a Bible Study portion that has you read specific passages and answer a question on it. Finally each chapter has a journey journal where you can write your own personal thoughts, or things you have learned in this lesson.
You can see a table of contents
here
.
My daughter is still young so I was interested in previewing this book as a possible option for when she reaches pre-teen age. Why isn't it relevent to younger children? After reading several chapters I do see that a girl would benefit having the true biblical account read first. To know what the word of God says regarding these actual events, as the author does take many liberties in turning it into a fictionalize story for enjoyment. Sometimes the short Bible passages are not as detailed as the books we read, and I think Ms. Clarkson wanted to grab ahold of the young girls attention and show them that these short bible passages happened in a real setting and help clairify what she felt may have gone along in the scene.
It is more about reading a fiction account of the women and then diving into the Bible to see how the lessons learned apply to the young woman today.
I would certainly not subsitute our bible devotions, or devotions that take and delve deeper into the Word, for this book. I think this would be a good one in addition to what you are already using bible wise, especially if you are already learning about the lives of these women.
I am one who does gain a better insight into what could have happened in Bible times when I can read fiction accounts or watch movies based on the subjects. As long as you take it back to the Bible for the truth I don't find it to be a problem.
I think this will be a great Mother Daughter book to springboard from into great discussions and deeper study of these women.
For $13 from Apologia, it is well worth having on your bookshelf.
I received a copy for review as a member of the TOS crew. Click on the banner below to see what my crew mates felt about this book.