100% All Natural Products
Hand crafted soaps
make you want to go in the kitchen and bake after your shower!! I used the Pumpkin Pie and had to look up pumpkin dessert recipes afterward. It smells so wonderful, but please don't eat it.
You will want to with names like
Fresh Spiced Banana & Milk
Garden Fresh Tomato
Pumpkin Pie
All Natural Lipbalm
without sweeteners are very soothing to your dry, chapped, winter lips.
Blissful Healing Salve
is made in small batches and comes in 1 oz tin container. It is a very lightweight salve, not a heavy lotion consistency but more of a solid oil so that you can apply it gently to bruises, eczema, cuts and other areas in need of healing. I found it to work great for my dry lips as well, a little bit moisture when they are extremely dry. Works great on dry, cracked heels also. I recommend you apply it right before bed and wear socks to keep the healing salve on your feet, and not your sheets.
Luscious Moisturizing lotion has some fantastic ingredients such as jojoba oil, red palm oil, virgin coconut oil, and green and ginger tea infused water.. It smells so luscious, and is a fantastic moisturizer. I have zero desire to trouble shoot making my own lotions when I find such fantastic products like this one!
Visit
Happy Skin Naturals
online for a slew of other all natural products like skin scrubs and sugars, deodorant, and more. Everything is synthetic, dye and fragrance, and paraben free.
Find them on Facebook at
Happy Skin Naturals
Be watching for the It's in the Bag Giveaway Hop starting Nov 5th where Happy Skin Naturals is giving away similar products to the ones I reviewed. You won't want to miss it!!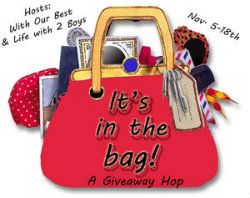 Happy Skin Naturals is also in the Christmas Jubilee Gift Guide, as these products make wonderful gifts this holiday season.
Disclosure: The reviews and or opinions on this blog are my own opinions. I received the above to review. No monitory compensation was received. I was not required to write a positive review. Your experience may differ. The opinions I have expressed are my own I am disclosing this in accordance with the Federal Trade Commissions 16 CFR Part 255: Guides Concerning the Use of Endorsement and Testimonials in Advertising.