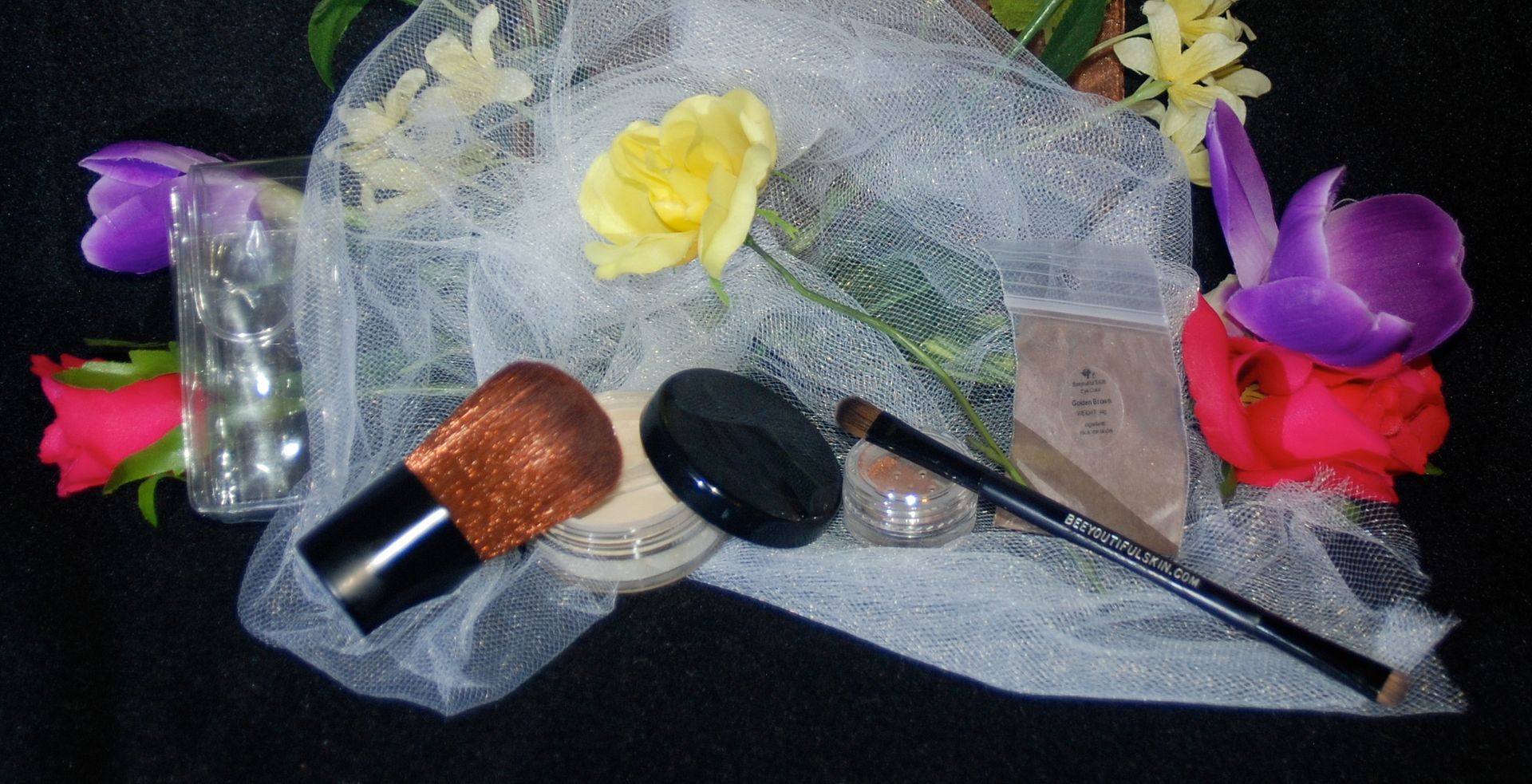 Beeyoutiful Skin
is a mineral based makeup line. All natural with 100% minerals used. No harmful chemicals, which means my skin looks and feels so much better! I have been using mineral makeup for the last 4 months or so, from when I first was introduced to it. I have loved getting away from the commercial products with all of the fillers and harmful ingredients. I was so thrilled when The Old School House presented the opportunity to review for Beeyoutiful Skin. I chose the mineral makeup line to review.

I was given a choice of 3 samples of
beeyoutiful foundation
to try out to see which would be the best fit for them to send to me. I decided on
Isabella
which is a very natural foundation. I like to just wear a very light foundation when I do, and I want it to be almost transparent in it's look. I do not care for being 'overdone' when it comes to foundation. What I love about the mineral foundation is that you can put it on sparingly and it gives you a softer, smoother lined face, without looking glob-by. With 20 different foundation colors you are sure to find the one that best fits your skin tone, and that may even very some with the season. There is a
skin chart
available online for you to consult. I know in the summer I need a darker foundation for covering than in the winter when I am stuck inside often. You get 4.1 grams for $25.00. This amount will last you for a very long time. I did not receive this amount to review, and my sample has lasted for several times already. I know in the summer I need a darker foundation for covering than in the winter when I am stuck inside often.
I first tried applying the foundation without watching the DVD that I received. It worked kind of like a powder would, and though I was pleased with the outcome, I figured I should check to see how the professionals did it! So glad I did!! Basically what you do is open the slide holder on the top of the foundation only partly open. Sprinkle just a small portion into the lid of the foundation. You will utilize the moisturizer you typically use on your face (they use the
beeyoutiful lavishmint daily moisturizing lotion
), mixing a small amount with the powder you have in the lid. You can use your finger to mix the two together, making a creamy foundation. This makes the powder go so much further than just using it as a 'powder' on your skin. It is much more intense this way, and covers so smoothly! Loved it on my skin!!!
Once you have it on your skin you take the
thick foundation brush
,($11.00) and finish up what you have in the lid and softly buff out your skin. It makes all of the lines you may have put with your fingers on your face, and gently rounds out the look. None of the foundation goes to waste, and you get a beautiful natural look! I have never used such a soft, wonderful brush either. Definitely one to have on hand!
Now that you have your foundation on, I like to move to my eyes next. You will be overwhelmed by the fantastic selection of colors offered by beeyoutiful, nearly 50 different colors. Now that simply amazes me that they can get that huge of a variety just with the use of minerals. One of the great things about mineral makeup is that you can use say an 'eye color' for your lips, or a 'lip color' for your eyes, based on what your mood is. They are so similar in ingredients that many of them are interchangeable.
So for eye color I chose
Misty Purple
( .39 gram for $10.00). Misty Purple does contain ferric ferrocyanide which is not recommended for wearing on your lips. I love it as an eye shadow so that was fine with me.
Beeyoutiful included a highly recommended tool for applying eyeshadow and lipstick in the
Combo-brush
for $6.50.
There are several ways you can use the mineral powder for your lips. I chose
Cotton Candy
(.71 grams for $10.00) for my 2nd color and received a small sampler bag of it to try.
For a solid, deepest color lipstick you will use water with the minerals and apply it directly to your lips. If it wise to add a protective layer of moisturizing balm to seal in the color and give it a bit of a glossy look.
Tinted lip gloss is the third look for your lips. With this you put the powdered minerals directly on your lips, and then put the lip balm over top of it. The lip balm will darken the minerals on your lips, giving you a tinted gloss look.
The color selection is just outstanding. I was very pleased with the beeyoutiful line of makeup. I thought the online video was extremely helpful on learning how to apply the makeup without waste.
The total look of the Beeyoutiful line is stunning and much healthier for your skin. No fillers, no waste, no additives.
If you are interested in trying out various colors you can order
samples
for just $1.00.
Visit
Beeyoutiful on Facebook
to keep up to date with these great products
As a member of the TOS review crew I received products from Beeyoutiful to better facilitate a fair and honest review. All opinons expressed here are solely my own.
See what some of my Crew Mates thought about Beeyoutiful Skin care in their words by clicking on the banner below.