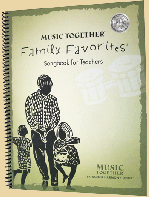 Music Together is a music and movement approach class, that began being offered publicly in 1987 and continues to be used nationwide. It is a program geared for toddlers/preschoolers and their parents. It is utilized in preschool programs, family classes, childcare centers, music therapy, classrooms and homeschools.
Music Together trains teachers who want to utilize this program in their schools/churches and offers support to them as they develop their class.
I believe God has created us with a song in our heart, the desire to worship Him through music. I can see that in my own young ones at church as they desire to learn the songs. Making a joyful noise is second nature for them. Music Together helps to funnel that energy in expressing their emotions and feelings through song, movement and musical instruments. Training ground for Praise and Worship, with basic songs that speak to their age level. This program is geared for infants from birth to youngsters around age 7 or Kindergarten level.
I only have 1 child that fits into the recommended ages of this program, year old. The Hello Song is utilized to greet each child as they come into class, since he is the only one it did make us laugh that we sang hello to everybody. We think that the big brother and sister need to join in! Such fun for him that he was the focus of the music and they had to 'help' him with his 'school'!!
Music Together lists specific techniques and types of activities to utilize with each of the 19 songs.

*Finger play used in rhythmic rhyme, helps children discover all that their hands can do with music
*Instruments & Props such as egg shakers , rhythm sticks, scarfs and more. (recommended for use once or twice in a 30 minute session)
*Lap songs are snuggle, cuddle type of songs where you hold the child and dance to the music with them in play
*sit and Sing as if around a campfire
*Taps and claps, to the beat of the music
And many more!

Fantastic program for children with special needs.
Music is accepting of all children and they are free to enjoy right where they are at.
Each of the 19 songs provide the teacher with:
*Activities suggested for each of the age groups.
*Piano music and information for guitar
*What instruments are used in the CD recording

Most of these songs will completely new to you as they were written by founders Kenneth Guilmartin and Lili Levinowitz. I only recognized "I've been working on the railroad"!
You can download individual songs or the whole CD on your MP3 player for just .99 cents each
(
http://store.musictogether.com/family-favorites-download-info.php
) Click on the link to listen to a sampling of each song as well!!
"Music Together encourages family participation in spontaneous musical activity occurring within the context of daily life."
You can listen to the songs available on the Family Favorites Cd by clicking on this link. http://store.musictogether.com/family-favorites-download-info.php
If you order the Songbook and CD combo (K0227) you can save $5 over buying them separately.
See what some of my other Review Crew Mates have to say about Music Together by clicking on the banner below!

As a member of the Review Crew I received product from the Sponsor in order to better facilitate my honest review. All opinons expressed here are solely my own.