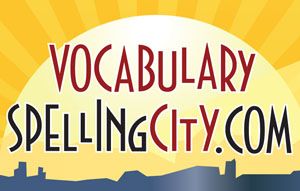 Vocabulary Spelling city.com
is an interactive, online spelling curriculum. Everything you need to create and utilize material for your students regarding spelling.
I was a little overwhelmed at first in the vastness of things I could use in this program! Where to start, especially as we haven't begun our school year yet. In the intro letter once I signed up they suggested the best place to start was with List Management which is in the Teacher toolbox. Thanks for the hint!
You then start creating spelling lists. Where do you get these? You can get them from the spelling workbooks you are utilizing, readers your children are struggling with, Dolch site words, unit study words, basically any venue where your student needs to learn to spell certain words.
I grabbed my 2nd graders reader and just pulled 10 words out of there to make my first list as a test run.
He of course wanted to play the games first, and being that he isn't a good speller, I was grateful for the interest he showed in the program! Even just sitting down now to write the review, he was looking over my shoulder and says he wants to play. If Spelling City gets my reluctant reader excited, that is a high honor!
So I have my list made I can create assignments. I simply choose the list I want, pick the activity:
Spelling Test
Teach Me
Match it Sentences
Sentence Unscramble
Word Search
Hang Mouse
and more
I then choose the student I am assigning it to. I have 3 students registered and can assign it to all or just some.
I get the opportunity to set a due date and any instructions as well.

My
Premium Membership
includes up to 5 students for $29.99. That is for a year subscription to all Vocabulary Spelling City offers!
Learning Activities and Games
for all ages! As the teacher I am able to create the lists which means I can make a list for my 2nd grader and for my 12th grader using the same program. My senior in high school may not get a kick out of the games that my 2nd grader does, but I can still have vocabulary and spelling tests created for his level. A program that goes across the board in my ages of children is a great one in my opinion!

Each student has his/her own username and password to log in directly to their assignments. I am so excited about using this program at least for my 2 youngest this year. We have a couple hours each week that we have to travel and be away from home and working on spelling city for a portion of that each time is going to be very helpful. I think it will take a little work on my part to decide which words I want to utilize and organize the assignments but if I do it a week at a time I should be able to keep up. I think it is easy to hit your groove and get into the swing of it once you get used to all of the various activities the kids can do.
Even if I just use it for 3 kids this year, that is only $10 per year! Very reasonable for the excitement my kids have when they can do games on the computer.

I was provided a premium membership free of charge in order to facilitate my review. All opinions expressed are solely my own.