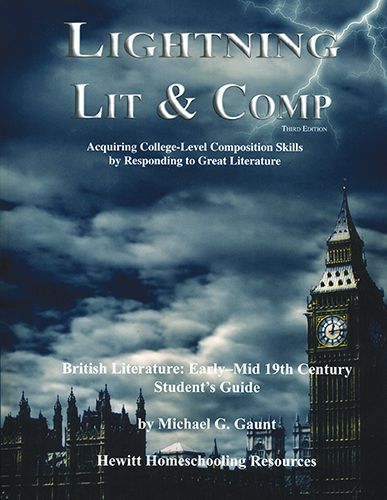 Hewitt Homeschooling
offers curriculum for elementary through senior high school.
I was able to review one of the high school literature resources in British Literature: Early-Mid 19th Century. Suggested for 10th through 12th grade for one semester. The course schedule does give you the option of making it into a year long course. My upcoming 12th grader has not had much experience with writing, though he is an avid reader. We chose for this course to make it a year long to ease him into the writing component. He is a little hesitant to jump into this kind of writing, but that I believe is because I haven't pushed him enough in this area. I really am excited about the
Lightning Literature & Composition
program as I feel it will take his love of reading, direct it to some of the classics and then draw from those better composition skills.
The classics covered in this program are:
Pride and Prejudice by Jane Austen
Ivanhoe by Sir Walter Scott
Frankenstein by Mary Shelley
Jane Eyre by Charlotte Bronte
There are also poems and short stories involved in the program. Literal themes covered include:
Tone
Characterization
Persuasive Writing
Imagery & Poetic language
Setting
and more.
It is suggested that while you read the assigned chapters that you have a Vocabulary Notebook and a separate journal as you read to write down any thoughts you have or questions you encounter. I found this to be really helpful. Writing down the vocabulary words and looking them up and defining them is a helpful tool in increasing their vocabulary and writing abilities and it is helpful as they begin to study for the ACT/SAT tests that are heavy in vocabulary.
The Student Guide has a great introduction that helps refresh some of the poetry concepts like figurative language and how to read poems. It has a great sample outline for writing a paper and how to organize it. Something we will definitely be utilizing as we get further into this program. One area I have not be diligent enough in is writing papers and doing research. I am hoping that I can utilize this program to grab hold of my son's attention and excite him to the idea of writing.
I must admit he wasn't overly thrilled with the poems of William Blake. Poetry has never been a subject my farm boys have enjoyed, but it was a great look at Tone and how William Blake over the course of his life changed his tone. His poems gradually got sadder and depressing as the situations in Britain got harsher. It was a perfect look at tone in poems.
I love how the kids have an option for a writing assignment, 6 choices for the first assignment. I think that is going to make this transition into writing a bit easier for my 17 year old having a choice like that.
We are venturing into Pride and Prejudice now. It starts out with a pretty heavy reading schedule but does ease up after the first week. The full year schedule allows for a 36 week year. I think for my son this will work out much better than having it for just a semester.
Lightening Literature has several other programs in that begin with great literature as early as 7th grade. Great literature that I remember reading in school as a child;
To Kill a Mockingbird
,
The Hobbit
, and
The Adventures of Tom Sawyer
. After finding this program by Hewitt I am considering starting my younger children out in a more literature based program like this, and not waiting until they are a senior in high school to work on their composition skills!
The British Literature Early to Mid 19th Century has a
Student Guide
($29.95),
Teachers Guide
($2.95) or is sold as a
pack which includes the required novels
($48.36)
I am very pleased with this program so far and I am excited to make it part of my 12th graders curriculum this coming year.
Disclaimer: As a member of the TOS Crew, I received this product, at no cost to me, in exchange for my honest review. All opinions are mine.