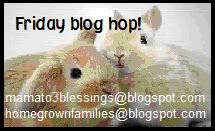 Family Friendly Blog Hop where you can find new blogs to follow!
My blog is primarily a book review blog where I review Christian books, Children's books, homesteading, craft, cook books.. anything good and wholesome for the whole family to read!
Check out my sidebar for giveaways I am currently running
Hope you join my blog through google friend connect so you can be updated on all of the fabulous books awaiting my reading! I have some great cookbooks, kids books, and Christmas books all lined up to review in this next month!!
Be blessed
Melanie